Builders report more optimism
Index of builder confidence rose for the third straight month. But it's still low, reflecting challenges related to tight credit, competition from foreclosures and economic insecurity.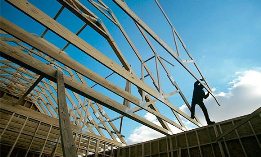 U.S. homebuilders are in a good mood this holiday season.
Measured by the National Association of Home Builders/Wells Fargo Housing Market Index for December, builders are in the best mood they've been in since May 2010.
December was the third consecutive month in which builders expressed increased confidence in the single-family new-home market.
"This is the first time that builder confidence has improved for three consecutive months since mid-2009, which signifies a legitimate though slowly emerging upward trend," NAHB chief economist David Crowe said in a news release. He noted that builders reported more inquiries from potential buyers than in previous months.
Post continues below
The improvement, reflected in a builder-confidence number of 21, was not equal nationwide. Builders in the South were by far the most confident, with a rating of 25, the highest level in that region since March 2008. The confidence level in the Midwest was unchanged, at 24. But in the West, a one-point increase brought the index to only 15. Builders reported declining confidence in the Northeast, where the index fell from 16 to 15.
In even the best markets, builders are facing tough problems that no amount of eggnog can mask. Tight credit for both builders and buyers is holding back construction and sales. New homes are competing with a large number of lower-priced distressed properties being sold at a discount. And the overall economy is keeping buyers on the fence as they worry about their jobs and the difficulty of selling existing homes.
While the index of 21 is an improvement over recent numbers, it is still less than half the number, 50, at which half the builders regard conditions as good. The index hasn't hit that number since April 2006.
"We continue to be somewhat surprised by this survey's recent gains in the face of what overall appears to be still fairly to only slightly improving demand trends," Michael Rehaut, builder analyst at J.P. Morgan, told The Wall Street Journal. "… we believe demand is stable to only modestly improving."
About Teresa Mears
Teresa Mears is a veteran journalist who has been interested in houses since her father took her to tax auctions to carry the cash at age 10. A former editor of The Miami Herald's Home & Design section, she lives in South Florida where, in addition to writing about real estate, she publishes Miami on the Cheap to help her neighbors adjust to the loss of 60% of their property value.
msn real estate is social
FIND YOUR DREAM HOME OR APARTMENT
WHAT'S YOUR HOME WORTH?
HOME IMPROVEMENT PROFESSIONALS
from our partners