Why does Mark Zuckerberg still rent?
The country's 36th-richest man has a new place, and it's a rental. Whither the American Dream of homeownership?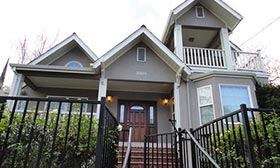 Lost somewhere amid his inspiring the Golden Globes 2011 best picture, running the country's most visited website and pledging $100 million to Newark, N.J., to save its schools was news that Mark Zuckerberg shortened his commute.
Late last week, Gawker, MSNBC and other sites reported that the Facebook CEO recently moved from one Palo Alto, Calif., home to another seven blocks away — and closer to Facebook headquarters, just down the street. It's also a size upgrade, from 2,350 square feet in his previous place to 3,800 in the new one.
The kicker is that Zuckerberg, who ranks No. 36 on Forbes' most recent list of the richest Americans, is renting. He rented his previous place, too.
First question: Didn't his landlord see that zip-line-off-the-chi​mney scene in "The Social Network"?
More important: What does it say about the state of the U.S. housing market when a man reportedly worth $7 billion decides not to buy a home?
Post continues below video
Well, for one, it shows that Zuckerberg may in fact read the news. Today, the National Association of Home Builders reported that in January, builders yet again view sales conditions as poor — continuing a 3.5-year streak of NAHB/Wells Fargo Housing Market Index readings under 50, the benchmark for "good." January marks the third straight month the index has been at 16; the NAHB reports on December's housing starts tomorrow.
Most likely, an explanation for Zuckerberg's decision may come from three factors.
1. He's young. Now 26, Zuckerberg is a few years removed from the character that Jesse Eisenberg played in "The Social Network." But he's still a ways from 30, the median age of first-time homebuyers, according to the National Association of Realtors. His alleged $1 annual salary also compares poorly to first-time buyers' $59,900 median annual income.
2. He's a celebrity, and celebrities do rent. Granted, the real estate of the rich and famous seems to reflect an inordinate number of misguidedbuyingdecisions. But the celebrity life can be transient — rock stars tour, movie stars shuffle between filming locations and self-made billionaires eventually find it impossible to nest into an Aeron chair and code all day. These poor folks simply don't have time to enjoy their homes.
3. He's not planning on staying long — and he's not necessarily a dumb guy. With home prices still falling in many areas, houses no longer are a sure bet as appreciating assets, at least in the short term. Experts in this article say more buyers are looking at homes as shelter first and investment second. And in this market, buyers who don't have five to seven years to wait to recoup their purchase costs may be better off renting until the tide turns.
Next question: When Zuckerberg does buy his first place, will he replace the doorbell with a "Like" button? Will privacy settings in his guest bathroom be opt-in, opt-out or a perplexingly worded combination of both, spurring countless conspiracy theories? Will the Facebook puns ever cease?
— Tony Stasiek is a producer/editor at MSN Real Estate. He's the former editor of two leading mortgage-industry magazines and has worked as a newspaper editor and reporter.
FIND YOUR DREAM HOME OR APARTMENT
msn real estate is social
WHAT'S YOUR HOME WORTH?
HOME IMPROVEMENT PROFESSIONALS
more on msn real estate