How to operate a portable generator safely
A gasoline-powered generator emits carbon monoxide and should never be run in the house or in an enclosed space. And don't turn it on until the rain stops.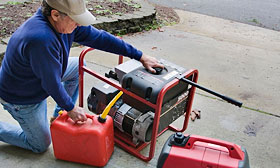 As the lights go out along the East Coast as Hurricane Sandy moves in, many homeowners are trying to remember how to operate those gas-powered generators that have been sitting down in the basement.
While you're waiting for the storm to pass, dig out the owner's manual and refresh your memory about how to operate your generator safely. Deaths from carbon monoxide from generators used improperly happen too often after a hurricane.
Post continues below
Never, never, operate a generator inside a house, garage or other enclosed area. While your power may already be off, the time to use the generator does not arrive until after the rain has stopped. This means that unless you have a whole-house generator that is already hooked up to your electrical system and is outside your home, you will not be able to use it to run the sump pump during the storm.
A portable generator should be placed as far from the house as possible and away from doors and windows to avoid carbon monoxide poisoning. A generator can produce 100 times the carbon monoxide created by a car exhaust.
"Where you run a generator can make the difference between life and death," Inez Tenenbaum, head of the Consumer Product Safety Commission, said in a news release in August, after Hurricane Isaac. "The only safe place to operate a generator is outside in open air, placed far from your home, not in a garage or any enclosed space."
Be considerate of your neighbors. A gasoline-powered generator can be incredibly noisy. If your neighbors can hear your generator, it's only common courtesy to offer them an industrial-strength extension cord to their house or an invitation to watch TV at your house. Your neighbors will also appreciate it if you turn your generator off at night. If you live near me, please don't even buy one.
Here are some other tips from the Federal Emergency Management Agency and the CSPC about operating a portable generator safely:
Make sure you have a battery-powered carbon monoxide detector operating inside your house.

Place the generator on a dry surface, preferably with a roof over it, so no water can get to the device. If it rains, turn the generator off. Don't touch a generator with wet hands.

Don't plug your generator into an outlet in your house. This endangers utility workers and neighbors served by the same transformer. It could also damage your electrical system.

Don't try to connect your generator to your entire electrical system. This should be done only by an electrician or your utility company. In most cases, a portable gas-powered generator is not adequate for this purpose.

Use a heavy-duty extension cord rated for outdoor use from your generator to your home appliances.

Remember that a gasoline-powered generator is not enough to power up all the appliances in your home. Before connecting your refrigerator, check the owner's manuals of both to make sure the generator is up to the task.

Store your gasoline away from electrical appliances.

Let the engine cool for at least two minutes before refueling.

Don't run the generator when you're not home.

Check your manual to see if your generator is safe for computers and other sensitive electronic equipment. Many less expensive generators don't produce "clean" enough power for electronics.
If you're lucky enough to have a standby generator that can power your whole house, remember that it's expensive to run. One colleague used $900 worth of propane powering her house for just five days after Hurricane Wilma in 2005.
A portable generator can also go through a lot of fuel quickly, as much as 34 gallons of gas in just two days.
If you want more storm safety tips, you can follow the CPSC on Twitter @onsafety.
FIND YOUR DREAM HOME OR APARTMENT
msn real estate is social
WHAT'S YOUR HOME WORTH?
HOME IMPROVEMENT PROFESSIONALS
more on msn real estate