Military families hit hard by housing crisis
'Youth and ignorance' have made service members a target of predatory lending.
In 2007, 28-year-old Terese Gibney and her husband, who is in the Navy, bought a condo in San Diego's hip Hillcrest neighborhood. A few months later, her husband got a new assignment. When the market fell, the couple was unable to sell or rent the place.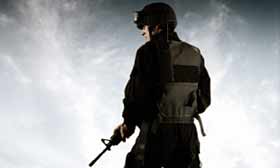 "We were doing everything we possibly could to save ourselves and to save the property," Gibney told the
Sacramento Bee
. "We maxed out probably three credit cards. We just got to a point where we said we can't do it anymore. We're tapped out."
The couple, now living in Texas, is trying a short sale. Their real-estate agent, Jeffrey Kayle, said the Gibney story is typical of military couples who bought in San Diego before the crash.
"These are responsible people. They are trying to do the right thing," he said.

The foreclosure crisis has had a "particularly profound effect" on military families and the towns surrounding the bases where they serve, according to the Bee.
Of the 20 towns near military bases with the highest foreclosure rates in the nation, eight were in Southern California, and half of those were around San Diego, 
RealtyTrac's
Rick Sharga told the paper. Foreclosures rose 34% in ZIP codes near the bases from 2008 to 2010.
Post continues below
Of course, the issue of military foreclosures is nothing new. In 2008, 
foreclosures in military towns
 were reported to be four times the average U.S. rate.  
So why has the foreclosure problem been worse for those in the military?
Young service members who may have been first-time homebuyers and bought at the peak of the bubble were especially vulnerable, Sharga said

Like many civilians, they may have been victims of predatory lending or may have taken more of a financial risk during the bubble. But unlike civilians, they often cannot "ride it out" when forced to relocate for a new assignment.

There are two main reasons service members and their families are facing foreclosure notices, said Shad Meshad of the National Veterans Foundation in Los Angeles — "youth and ignorance," making them easy prey for predatory lenders.
The Veterans Call Center says about 40% of its calls from January to September 2010 had to do with housing issues. That was a 5% increase over 2009. 
"They make it easy to get on a property, and they don't care whether you can make the payment or not," Tyrone Ballesteros, office manager for the call center, told the Bee. "These guys are young and they want a place for their family. Sure they jump all over it. ... They want the American dream." 
Additional resources are available to both veterans and active-duty service members.
Camp Pendleton offers financial planning and assistance for Marines and sailors, including free legal advice.

Veterans call centers around the country, run by nonprofits and the government, offer counseling and services.

The Servicemembers' Civil Relief Act of 2003 aims to protect active-duty military from judicial and administrative proceedings that may affect them while in service. Some say it hasn't always been effective, but it may be a place to start.

Rebecca Roberts began her career as an online editor in 1996 with the launch of MSNBC and has worked as the managing editor of Netscape and senior editor of Yahoo! Real Estate. She's currently both a renter and a landlord.
About Teresa Mears
Teresa Mears is a veteran journalist who has been interested in houses since her father took her to tax auctions to carry the cash at age 10. A former editor of The Miami Herald's Home & Design section, she lives in South Florida where, in addition to writing about real estate, she publishes Miami on the Cheap to help her neighbors adjust to the loss of 60% of their property value.
msn real estate is social
FIND YOUR DREAM HOME OR APARTMENT
WHAT'S YOUR HOME WORTH?
HOME IMPROVEMENT PROFESSIONALS
from our partners