'Real Housewife' fights to build mansion
Lisa Hochstein and her plastic-surgeon husband are at war with preservationists in Miami Beach over their plan to raze a 1925 home and build a 20,000-square-foot mansion.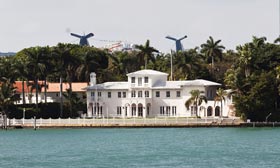 All those "Real Housewives" are involved in so many real-estate stories that it's hard to keep up. They buy, they sell, they get foreclosed on, etc., kind of like the rest of us but in bigger houses.
"Real Housewives of Miami" cast member Lisa Hochstein doesn't think her house is big enough. She and her husband, Dr. Leonard Hochstein, a plastic surgeon, want to build a 20,000-square-foot mansion, plus a five-car garage and a two-story guest house, on an island just over the bridge from South Beach.
But their plan has run into roadblocks from Miami Beach preservationists, who say the 8,117-square-foot house already on the waterfront site, built in 1925 and designed by Walter DeGarmo, one of Miami's most prominent architects, should not be demolished. The Hochsteins argue that the home cannot be salvaged.
"It's our home , we. Bought it , how in the world should it be ANYONE'S concern what we do with it? , how does it affect anyone ? Nuts ." Lisa Hochstein tweeted Wednesday, after the Miami Beach Design Review Board delayed its ruling on the couple's building plans.
The next showdown is scheduled for next week, when the Miami Beach Historic Preservation Board votes on an application to declare the home historic against the owners' wishes – something rarely done in Miami Beach, according to The Miami Herald.
While many commercial buildings in Miami Beach's Art Deco district are protected, few of its homes have been designated historic. In the past year, the city has granted permits to demolish 24 homes built in the 1920s, '30s and early '40s, The New York Times reported, compared with 13 total between 2007 and 2011.
"We have reached a tipping point on Miami Beach where we are losing entirely too many pre-1942 single-family homes," William H. Cary, the city's assistant planning director, told The Times. "It appears it could begin to have a dramatic impact in changing the character of Miami Beach's residential areas."
Star Island, a small island just west of the main island of Miami Beach, lives up to its name. Among the Hochsteins' current and former neighbors are Gloria Estefan, Donald Pliner, Shaquille O'Neal, Sean Combs, Don Johnson and Lenny Kravitz. Rosie O'Donnell owns the 11,000-square-foot house next door, which she has listed for $17.5 million.
The Hochsteins ended up with the Star Island property after Jeannette Branam, whose family had owned the home for more than 30 years, lost a contentious foreclosure suit. Leonard Hochstein has said the couple paid $7.6 million for the home.
The Hochsteins currently live in a 9,944-square-foot mansion they built on another Miami Beach island, but have that house on the market for $10.75 million.
Are you sure you want to delete this comment?
FIND YOUR DREAM HOME OR APARTMENT
msn real estate is social
WHAT'S YOUR HOME WORTH?
HOME IMPROVEMENT PROFESSIONALS
more on msn real estate