Low inventory may be stalling pending home sales
The number of homes under contract fell 1.4% from May to June. Lack of inventory is a problem, as are economic uncertainty and financing issues.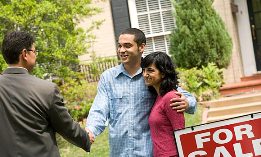 The number of contracts signed to buy existing homes fell slightly in June, as shrinking inventory made it more difficult for buyers to find homes.
The National Association of Realtors' Pending Home Sales Index fell 1.4% from May but was 9.5% above the level of June 2011.
"Buyer interest remains strong, but fewer home listings mean fewer contract-signing opportunities," said Lawrence Yun, the NAR's chief economist, in a news release.
Post continues below
"We've been seeing a steady decline in the level of housing inventory, which is most pronounced in the lower price ranges popular with first-time buyers and investors," Yun said.
He noted that despite the drop, June was the 14th consecutive month to show a year-over-year gain.
The pending-home-sales index was the latest indicator to deliver a reminder that whatever housing recovery is under way, there are going to be ups and downs. Sales of new homes declined 8.4% in June, and sales of existing homes fell 5.4%.
The low inventory isn't the only factor constraining home sales. Mortgage rates hit another record low Thursday — 3.49% was the average rate for a 30-year, fixed-rate loan — but many prospective homebuyers can't qualify for mortgages. A lack of confidence in the overall economy also is holding buyers back.
"One of the cruel facts of this current backdrop is that few people have really been able to take advantage of these historically low rates," Tom Porcelli, chief U.S. economist for RBC Capital Markets, told Bloomberg. "You really haven't seen purchase applications pick up in any meaningful way at this stage."
About Teresa Mears
Teresa Mears is a veteran journalist who has been interested in houses since her father took her to tax auctions to carry the cash at age 10. A former editor of The Miami Herald's Home & Design section, she lives in South Florida where, in addition to writing about real estate, she publishes Miami on the Cheap to help her neighbors adjust to the loss of 60% of their property value.
msn real estate is social
FIND YOUR DREAM HOME OR APARTMENT
WHAT'S YOUR HOME WORTH?
HOME IMPROVEMENT PROFESSIONALS
from our partners