Biggest contributor to greenhouse gases? Buildings
Architect is honored for his work to persuade his peers to design buildings that use less energy and are kinder to the environment.
Twenty-three years after he published the definitive book on passive solar design, architect Edward Mazria made a startling discovery: Buildings and construction generate almost 50% of the greenhouse gases in the United States.
Determined to change that, he gave up his architecture practice in Santa Fe, N.M., and started Architecture 2030, challenging his fellow architects to use their power to reduce the built environment's contribution to greenhouse-gas emissions dramatically.
For his work, Mazria, 70, was one of five Americans to receive the 2011 Purpose Prize, given to five Americans over 60 who are changing the world. The prize comes with a $100,000 award.
Post continues below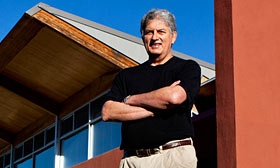 "Every time we design a building, we set up its energy-consumption pattern and its greenhouse-gas emissions pattern for the next 50-100 years," Mazria said to Worldchanging, explaining how architects can make a difference – and quickly – on greenhouse gases. 
Mazria has enlisted the American Institute of Architects, the U.S. Conference of Mayors, the U.S. Green Building Council and the National Governors Association in his crusade and is continuing to spread the word about how much design matters in energy conservation.
Mazria spent much of his architectural career working on green design and sustainable projects, but until 2002 he didn't do that math. Using Energy Department, he calculated contributions to greenhouse gases another way and discovered that the built environment was responsible for nearly half of emissions, far more than the auto industry.
"Architects — and the government tends to forget this — specify every single material that goes into a building, from faucets to paint to carpet to wall materials to finishes to windows to roofing," he said in Metropolis Mag in 2003.
"Architects have the ability to change entire industries with the stroke of a pen. If we specify a material with low carbon-dioxide emissions in its fabrication — say, floor tile, carpet, gypsum board — industry will respond. This is the American way. Architects are consumers; they're not always aware of the incredible power they have to change the way products are manufactured."
FIND YOUR DREAM HOME OR APARTMENT
msn real estate is social
WHAT'S YOUR HOME WORTH?
HOME IMPROVEMENT PROFESSIONALS
more on msn real estate