Your kid may finally move out of your basement
More households are being formed, which means an improved picture for housing as more young people seek their own home.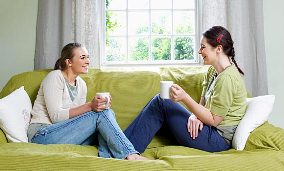 Are kids finally moving out of their parents' basements?
For some parents, this may be even better news than the end of the campaign advertising season: More young adults are forming their own household.
A total of 1.15 million new households were formed  in the year that ended in September, fewer than the average 1.25 million added each year during the boom, but the highest number in more than six years, The Wall Street Journal reports, citing U.S. Census data.
Post continues below
During the recession, the rate of household formation fell to about 650,000 a year, cutting the demand for both new and existing homes.
As unemployment eases, more people are ready to quit living with relatives — including parents — and form their own household.
Many of the new households were formed by renters. The number of homes occupied by renters has grown by more than 5 million since 2006, while the number of homes occupied by owners has fallen by 1.4 million, The WSJ reports.
The statistics don't break down the age of those forming new households, but new households traditionally are formed by young adults or immigrants, who also have formed fewer new households during the downtown.
"During the recession, a lot of those major life events like marriage, children and migration were put on hold," Kenneth Johnson, a senior demographer at the University of New Hampshire's Carsey Institute, told The WSJ. "It may be that there are couples who are thinking about living together, and they're thinking, 'The jobs picture is getting better. It's time to make the next step.'"
Sorry, the article does not include any advice about how to get your particular young person out of your basement and into a job and an apartment. But at least you know the trend is in the right direction.
"This has been a year of steady growth in the percentage of consumers with positive home-price expectations," Doug Duncan, senior vice president and chief economist of Fannie Mae, said in a news release with the agency's October 2012 National Housing Survey. "Increasing household formation, encouraged by an improving labor market, is adding additional momentum to the housing recovery and putting upward pressure on rental price expectations. Expected increases in both owning and renting costs may encourage more consumers to buy and add further strength to the housing recovery already under way." 
Are you sure you want to delete this comment?
FIND YOUR DREAM HOME OR APARTMENT
msn real estate is social
WHAT'S YOUR HOME WORTH?
HOME IMPROVEMENT PROFESSIONALS