New-home sales flat, and that's good news
Revised December numbers are the highest since April 2010, giving builders more hope that the market is really turning a corner.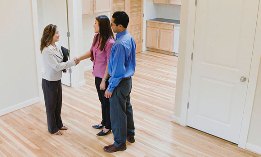 New-home sales dipped slightly in January, but analysts and homebuilders are still seeing signs of hope in the market.
"Outside of the upwardly revised December number, this is actually the best sales pace we've seen since April of 2010, when the homebuyer tax credit was in effect," Barry Rutenberg, chairman of the National Association of Home Builders and a homebuilder in Gainesville, Fla., said in a news release.
"Moreover, many recent indicators – from our builder confidence surveys to housing starts and permits data and the expanding list of improving local markets – have provided evidence that consumers are becoming more confident about making a home purchase."
Post continues below
According to data from the Commerce Department and the Department of Housing and Urban Development, sales of new single-family homes were down 0.9% in January from upwardly revised December numbers.
The seasonally adjusted annual pace of 321,000 is far below the number sold in a healthy market, but is 3.5% higher than last January. December's revised rate of 324,000 was the highest since April 2010.
A total of 304,000 new homes were sold in 2011, the lowest number since record-keeping began in 1963.
"Sales are very low but are getting better," Patrick Newport, an economist at IHS Global Insight, told Bloomberg. "It's a combination of an improving economy and labor market."
The inventory of new homes for sale continued to shrink and now is a 5.6-month supply at the current sales pace. The inventory of existing homes for sale has also declined dramatically.
The story wasn't the same in all regions:
Midwest: Sales fell 24.5%.

West: Sales fell 10.6%.

Northeast: Sales increased11.1%.

South: Sales rose 9.3%.
"The report shows traction for a housing industry anxious to ascend from the bottom," Mitchell Hochberg, principal at Madden Real Estate Ventures, told The New York Times. "To climb back, the foreclosure overhang needs to clear, prospective homebuyers must find it less difficult to qualify for a mortgage and consumer confidence must improve." 
FIND YOUR DREAM HOME OR APARTMENT
msn real estate is social
WHAT'S YOUR HOME WORTH?
HOME IMPROVEMENT PROFESSIONALS
more on msn real estate