It's official: More young adults live with parents
A new census study reports that 10% of women and 19% of men 25 to 34 are living with their parents, a significant increase since 2005.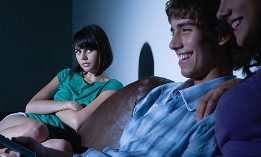 The U.S. Census Bureau has just released a new report confirming what we already know: More young adults are living with their parents.
According to data released today, among people ages 25-34, 10% of women and 19% of men live with their parents. That's up from 8% of women and 14% of men in 2005.
What's interesting is that the trend started before the recession, meaning it's not just the economy that's keeping your kid living in your basement.
Post continues below
"The increase in 25- to 34-year-olds living in their parents' home began before the recent recession, and has continued beyond it," Rose Kreider, a family demographer with the Census Bureau, said in a news release.
Among people 18 to 24 years old, 59% of men and 50% of women live with parents (or in a college dorm, which was counted as living with parents). That's up from 53% of men and 46% of women in 2005.
The information is part of a new report called America's Families and Living Arrangements: 2011, which was taken from the 2011 Current Population Survey.
A few other tidbits from the report that may have an effect on trends in real estate:
Married couples with children make up 20% of all households, down from 40% in 1970.

The average number of people per household was 2.58 in 2011, the same percentage as in 2011. Though there are slight fluctuations year over year, household size has been declining since at least 1960, when it was 3.33.
Those changes in household composition go along with a trend toward smaller homes and the popularity of urban living. As fewer households have children, the quality of school districts in city centers is less important to homebuyers than proximity to shops and services.
FIND YOUR DREAM HOME OR APARTMENT
msn real estate is social
WHAT'S YOUR HOME WORTH?
HOME IMPROVEMENT PROFESSIONALS