Listing of the Week: Kenny Rogers' Georgia retreat
'The Gambler' singer is betting he can do better selling his house at auction rather than through a conventional listing. Bring $100,000 if you want to bid.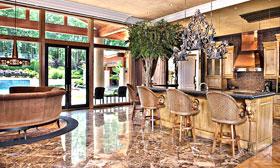 Country singer-songwriter Kenny Rogers, known for his song "The Gambler," is taking a gamble of his own.
He is putting his 150-acre retreat in Athens, Ga., up for auction on June 26. It's an absolute action, meaning that it will sell for the highest price offered. Bidders do have to pony up $100,000 and bank references to participate.
Rogers built the 5,681-square-foot home in 2009. It has five bedrooms and 5.5 baths, as well as a three-car garage, attached guest house, high ceilings and all the amenities you'd expect in a high-end house. Plus, it comes fully furnished and includes all the toys for outdoor fun, including a SeaDoo, trampoline, zip line and pontoon boats. Just bring your toothbrush, as they say.
Post continues below
According to data gathered by Zillow, Rogers brought the property for $1.24 million in 2008, though it is unclear if all the acreage was included in that transaction. He first listed it for sale for $3.5 million in January, then lowered the price to $2.95 million in April before taking it off the market in May.
The wooded property is 10 minutes from the college town of Athens and less than hour from Atlanta, according to the listing.
It is designed to be an outdoor paradise, with horse trails, a barn and an eight-acre lake stocked with bass that includes a private beach.
The heated pool includes a Zen waterfall and is adjacent to a 2,675-square-foot lanai and a 2,675-square-foot pool deck.
According to Scott Kirk, executive vice president of Grand Estates Auction Co., Rogers is selling the property because he is too busy to spend time there.
What price does the auction company expect to get for the estate?
"What this property will sell for it really is anyone's guess," Kirk told The Atlanta Journal-Constitution​. "That's the beauty of this. There's not the fear of overpaying like can happen in a listing situation. You have the market surrounding you."
FIND YOUR DREAM HOME OR APARTMENT
msn real estate is social
WHAT'S YOUR HOME WORTH?
HOME IMPROVEMENT PROFESSIONALS
from our partners