Trim your hedges or go to jail
Village in the Hamptons mandates that hedges between properties be trimmed annually, in an effort to mandate a neighborly approach.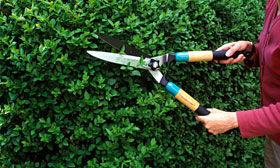 We've all dealt with neighbors who don't keep up their yards, making the neighborhood look bad and bringing down the values of everyone's home.
In the tony Long Island town of Southampton, N.Y., that sort of thing will not be tolerated. In fact, if you don't trim your hedges by July 31 every year, you could go to jail.
"It's a practical matter," Village Attorney Richard DePetris said at 27 East. "The adjacent neighbor has to either tolerate an expanding, growing hedge overhanging onto his property or has to cut it himself — or has to go out and hire somebody to cut it himself, and there's no recourse for getting that expense back from the actual owner of the hedge."
Post continues below
The crackdown on unruly hedges apparently enjoys strong support in the Hamptons. The Southampton Village Board passed the new law unanimously, much to the delight of residents at the meeting. Some want the law to go further and restrict the height of hedges.
Many municipalities do restrict the height of hedges, though only a few actually send scofflaws to jail.
The new Southampton law requires owners of hedges along property boundaries to trim the top and both sides, including the side in their neighbor's yard, though they must first get written permission from the neighbor. Those who fail to keep their hedges in check face a fine of up to $1,000, up to 15 days in jail or a fine plus jail time.
Southampton isn't the first city to threaten jail for homeowners who don't keep their foliage in line. Back in 2002, Palo Alto, Calif., arrested a 61-year-old cancer patient and threatened her with jail when the xylosma bushes in her swale grew above the allowable 2 feet. Oak Park, Mich., is threatening to send a homeowner to jail for planting a vegetable garden in her front yard.
Good fences may make good neighbors, but bad hedges clearly do not. Fights between neighbors over hedges get serious from time to time. In Green Valley, Ariz., one resident sued his neighbor over hedges he said blocked his mountain view. In England in 2003, one neighbor shot another to death after a dispute over the hedge dividing their property.
Perhaps the Southampton hedge law isn't as draconian as it sounds. Keeping the foliage that divides your yard and your neighbor's trimmed neatly, as well as consulting from time to time on its appearance, is part of being a good neighbor.
FIND YOUR DREAM HOME OR APARTMENT
msn real estate is social
WHAT'S YOUR HOME WORTH?
HOME IMPROVEMENT PROFESSIONALS
more on msn real estate