Officials scramble to find housing for those displaced by Sandy
With a nor'easter threatening to make conditions even worse, officials are trying to figure out where storm victims can live while their homes are repaired.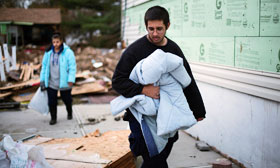 As colder weather heads for the Northeast, officials are scrambling to figure out where to house tens of thousands of people made homeless by Sandy.
In New York City alone, 20,000 to 40,000 people are without shelter because of the storm, most of them residents of public housing, The New York Times reports. Even in the best of times, affordable housing is in short supply there.
"We don't have a lot of empty housing in this city," Mayor Michael Bloomberg said. "We are not going to let anybody go sleeping in the streets. We're not going to let anybody go without blankets, food and water, but it's a challenge and we're working on that."
Housing shortages also loom in other parts of the region that saw a large number of homes destroyed or rendered uninhabitable by the storm. More than 10,000 people in nine states were in shelters Saturday night, the American Red Cross told CNN. Tens of thousands of others are staying with family and friends.
No one knows yet how many people are without homes in New Jersey, though about 5,000 are in shelters and tens of thousands more are with family and friends. "We lost a lot of housing here in New Jersey," Homeland Security Secretary Janet Napolitano said while touring the state with Gov. Chris Christie. "We don't even know yet which houses are repairable."
The Federal Emergency Management Agency is providing hotel rooms for two weeks for storm victims who can't live in their homes, and some will be eligible for help paying rent on temporary apartments – if they can find them.
Some New Yorkers likely will be living in hotels for a while. Manhattan, at least, is unlikely to end up with an encampment of FEMA trailers, though such structures might be used in Long Island or less densely populated areas with few vacant living units.
"It has got to make sense for the neighborhood," FEMA Director Craig Fugate said. "We are going to bring all potential housing solutions and look at what works best for each neighborhood."
Temperatures in the 30s at night and a nor'easter that threatens more wind, rain and cold was prompting people to seek alternatives to housing that would be habitable if there were electricity.
Daniel and Laura Flores are leaving their public-housing unit and moving in with their daughter in Brooklyn. "It's too cold," Daniel Flores told The Wall Street Journal. "The first few days after the storm was not too bad, but last night was horrible. The development is made of concrete, and it just holds in the cold. It was just bitter cold. It was going through your bones."
FIND YOUR DREAM HOME OR APARTMENT
msn real estate is social
WHAT'S YOUR HOME WORTH?
HOME IMPROVEMENT PROFESSIONALS
more on msn real estate