Michael Moore owns 10,000-square-foot home
Populist documentary filmmaker comes under fire for his luxury, lakefront vacation property. He lives most of the time in Manhattan.
Filmmaker Michael Moore has stood with the 99% during the Occupy Wall Street protests, but he is being criticized for living like the 1%.
It seems the creator of such films as "Roger and Me" and "Capitalism: A Love Story" has a 10,000-square-foot vacation home on a lake in Michigan.
"It is a pad right out of Robin Leach's 'Lifestyles of the Rich and Famous,' with a sprawling lakefront facade that looks out over the lake's deep, azure waters that have attracted America's very rich for decades," Henry Payne writes at The Michigan View.
According to Payne, Moore bought a 2,500-square-foot home, then bought two adjoining lots and expanded the house. For tax purposes, the house is valued at $925,000; considering Michigan's 50% assessment system, it's worth about $1.85 million.
Post continues below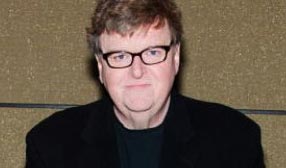 The northern Michigan lake region is popular with wealthy people. Payne reports that actors Bruce Willis and Tim Allen, singer Madonna — like Moore, a Michigan native — and former Chrysler Chairman Bob Eaton all have homes in the area.
We found lots of political commentary on Moore's home but few real-estate details. You can see a few exterior photos here and here.
Moore's primary residence is an apartment on the Upper West Side of Manhattan. We found numerous references to his "$1.27 million apartment" but no details and no indication of whether that was what he paid or its current value.
Moore has responded to some of the criticism of his wealth by acknowledging that he is indeed one of the 1%. He notes that his income varies from year to year.
He has not commented on his homes, but he did say he feels "very blessed" to have done as well as he has.
FIND YOUR DREAM HOME OR APARTMENT
msn real estate is social
WHAT'S YOUR HOME WORTH?
HOME IMPROVEMENT PROFESSIONALS
more on msn real estate