Sign of the times? Thousands willing to plaster home with billboard
Company is offering to pay mortgages if homeowners let it turn their house into a giant ad.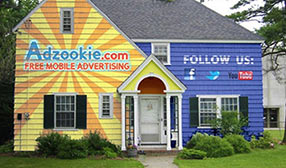 Mobile advertising company
Adzookie
is offering to
paint your place
, but the palette may not be exactly what the neighbors will love.
The company's website warns that applicants must be ready for the "bright colors and stares from neighbors" when they apply.
But since Adzookie is willing to pay the mortgage for every month the "billboard" remains, many are leaping at the chance. According to
The Wall Street Journal
, the company received more than 3,000 applications Wednesday alone. "We hit a nerve," CEO Romeo Mendoza told the newspaper.
There are a few rules: You must be willing to let the paint stay on for a minimum of three months, you can extend the contract for up to a year, and you must own the house (sorry, not a good way of getting back at a cranky landlord).  If you change your mind, Adzookie will return it to its original colors.
"It really blew my mind. I knew the economy was tough, but it's sad to see how many homeowners are really struggling."

Post continues below
Homeowners may want to research 
local sign ordinances
 that may apply. According to the WSJ, the company will not paint anywhere where code restrictions disallow billboards. It also promises to do its "due diligence," confirming mortgages before it breaks out the paint cans.
CNN Money
says houses could be painted in as soon as a few weeks by the Anaheim, Calif.-based startup.
Rebecca Roberts began her career as an online editor in 1996 with the launch of MSNBC and has worked as the managing editor of Netscape and senior editor of Yahoo! Real Estate. She's currently both a renter and a landlord.
FIND YOUR DREAM HOME OR APARTMENT
msn real estate is social
WHAT'S YOUR HOME WORTH?
HOME IMPROVEMENT PROFESSIONALS
more on msn real estate