Listing of the Week: Howard Hughes crashed here
The aviator's 1946 plane crash took out the garage of this Spanish-style Beverly Hills home. The $6.995 million house has long been repaired and updated, but still has no garage.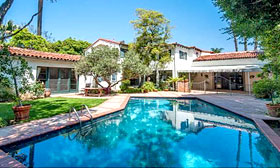 We write a lot about homes where famous people slept. But how often do you have a chance to buy a home into which a famous person crashed his plane?
This expansive Spanish-style home in Beverly Hills, Calif., designed by architect Wallace Neff and built in 1926, used to have a garage. But Howard Hughes took it out in 1946 when he crashed his XF-11 into the house.
Everything has been repaired and updated since then, and the 6,246-square-foot home is on the market for $6.995 million.
Post continues below
The house has four bedrooms and 4.5 baths, lots of wood and vintage tile, expansive lawns and a pool and is on 0.39 acres in one of the most desirable areas of Beverly Hills. According to the Real Estalker, it's owned by the estate of Richard Stone, an Emmy-winning composer who died in 2001.
The house was listed for sale for $7.395 million in 2008 but was removed from the market less than a month later.
Hughes' crash into three neighborhood homes -- he was aiming for the Los Angeles Country Club after a mechanical malfunction -- was re-enacted in the 2004 film "The Aviator." Check-Six has photos of the crash, plus film clips from a 1946 newsreel and the film.
When the aviator landed in the neighborhood, at 7:20 p.m. on July 7, 1946, his plane first clipped the home of Dr. Jules Zimmerman, a dentist. Then it hit the garage and bedroom of this home next door, where actress Rosemary DeCamp and her husband, John Staler, were resting. They escaped injury. The plane ended up in a fiery crash that destroyed the home of Lt. Col. Charles A. Myers, who served as chief interpreter for the United States during the Nuremberg trials.
Hughes was the only person seriously injured. He suffered a crushed collarbone, six broken ribs, lung damage and burns on his hands. According to Check-Six, the newspaper carried daily progress reports on his recovery, and he designed some changes to his hospital bed that are in use today.
FIND YOUR DREAM HOME OR APARTMENT
msn real estate is social
WHAT'S YOUR HOME WORTH?
HOME IMPROVEMENT PROFESSIONALS
from our partners