Home prices hit new lows — again
'No real hope in sight for the near future,' analyst says, as prices go below 2000 levels in some cities.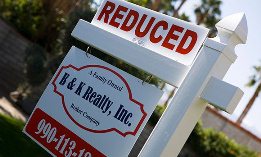 House prices hit new lows in 11 major cities in January, with prices below 2000 levels in some cities and the national average at summer 2003 levels.
If you think this sounds familiar, you're right. Prices hit new lows in those same 11 cities in December, according to the S&P/Case-Shiller Home Price Indexes. Prices dropped an additional 1% from December to January, for a year-to-year decline of 3.1%. And the fall isn't over.
The index is only 1.1% above the national low reached in spring 2009. The national index reached its peak in 2006 and has declined 31.8% since then.
"Keeping with the trends set in late 2010, January brings us weakening home prices with no real hope in sight for the near future," David M. Blitzer, chairman of the Index Committee at Standard & Poor's, said in the latest report.
"These data confirm what we have seen with recent housing starts and sales reports. The housing-market recession is not yet over, and none of the statistics are indicating any form of sustained recovery. At most, we have seen all statistics bounce along their troughs; at worst, the feared double-dip recession may be materializing."
Post continues below
Prices in 19 of the 20 metropolitan areas surveyed fell. The only city that didn't show a decline was Washington, D.C., which also showed the greatest appreciation since 2000, at 84%. Washington and San Diego were the only cities that didn't report year-over-year declines; prices in Washington were up 3.6% and prices in San Diego were up 0.6% since January 2010.
With the latest statistics, Atlanta joined Cleveland, Detroit and Las Vegas with prices below January 2000 levels. Phoenix; Charlotte, N.C.; Minneapolis; and Chicago show less than 20% appreciation since 2000.
The cities that reported record low prices — again —since the 2006-2007 market peak were Atlanta, Charlotte, Chicago, Detroit, Las Vegas, Miami, New York, Phoenix, Portland, Ore., Seattle and Tampa.
The cities that showed the greatest monthly declines were Seattle, 2.4%; Minneapolis, 3.4%; and San Francisco, 1.9%. The cities with the greatest declines in value since January 2010 were Phoenix, 9.1%; Detroit, 8.1%; and Portland, 7.8%. You can see more statistics on a Wall Street Journal interactive chart. The New York Times also has an interactive graphic that lets you look at price trends by city.
Is this the bottom? Not yet. Sales of new homes and sales of existing homes are both down, and prices continue to fall.
Jennifer Lee of BMO Capital Markets told The New York Times that recovery won't come before next year.
"We are more negative on housing than we were three months ago," she said.
FIND YOUR DREAM HOME OR APARTMENT
msn real estate is social
WHAT'S YOUR HOME WORTH?
HOME IMPROVEMENT PROFESSIONALS
more on msn real estate