More Americans think it's time to buy a home
The expectation that home prices, rents and mortgage rates are all likely to rise this year led Fannie Mae survey respondents to say now is a good time to get into the market.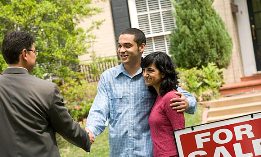 A convergence of factors is leading more Americans to believe that now is a good time to buy a home, according to the latest Fannie Mae Housing Survey.
The belief that rents, home prices and mortgage rates all will rise this year contributed to that determination.
The monthly survey conducted in March found that 73% of respondents believed now is a good time to buy a home, up from 70% in February.
Post continues below
"Conditions are coming together to encourage people to want to buy homes," Doug Duncan, vice president and chief economist of Fannie Mae, said in a news release. "With an increasing share of consumers expecting higher mortgage rates and home prices over the next 12 months, some may feel that renting is becoming more costly and that homeownership is a more compelling housing choice."
These were the factors leading people to favor buying sooner rather than later:
33% expect home prices to increase, the highest percentage in more than a year, and 5 percentage points higher than the previous month.

39% expect mortgage rates to rise in the next year, up five percentage points from the previous month.

48% expect rents to go up, up three percentage points from the previous month and the highest number recorded since the survey began in 2010.

44% expect their personal financial situation to improve in the next year, the same percentage as the last three months.
Other sources also indicate the tide is turning in favor of the financial advantage of buying over renting, though the math differs by market.
Trulia's latest Rent vs. Buy Index found that it's more cost-effective to buy than to rent in 98 of the 100 largest U.S. metropolitan areas.
In the past, renting has been about 10% cheaper than owning, analyst Nishu Sood told The Wall Street Journal. But that began to change in 2010. By the end of last year, renting cost about 15% more than buying.
Conditions are "overwhelming in the favor of buying now," he told The WSJ. "It is unequivocal."
While it is always good that consumer confidence is increasing to help the market up, I am a bit concerned that this will put more buyers in than  (at least some) markets are able to handle. Inventory levels are low in Seattle, New York, and Phoenix. Specifically in Phoenix, this has caught home builders off guard and they are struggling to find the resources to move forward. Lenders still view the housing industry as risky and going down, individual land owners are holding on because they think we're still going down and they can get higher prices later.
If you're interested, you can find the article I was reading at:
http://knowwpcarey.c​om/article.cfm?cid=2​5&aid=1160
Are you sure you want to delete this comment?
FIND YOUR DREAM HOME OR APARTMENT
msn real estate is social
WHAT'S YOUR HOME WORTH?
HOME IMPROVEMENT PROFESSIONALS
more on msn real estate