'Ho, ho, ho' from builders as optimism increases
The level of builder confidence is at its highest level since spring 2006, though tight credit and unemployment remain challenges.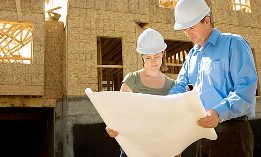 The level of builder confidence in the housing market continues to grow, with the glass almost half full as homebuilders evaluate sales prospects for the next six months.
The National Association of Home Builders/Wells Fargo Housing Market Index stood at 47, two points up from November and the highest level the index has reached since April 2006.
"Builders across the country are reporting some of the best sales conditions they've seen in more than five years, with more serious buyers coming forward and a shrinking number of vacant and foreclosed properties on the market," NAHB Chairman Barry Rutenberg, a homebuilder from Gainesville, Fla., said in a news release.
An index number over 50 means more builders see sales conditions as good than see them as poor.
The increase in sales of new homes in recent months has given builders reason to be optimistic. Builders started construction on more homes in October, the most recent month for which statistics are available, at the best rate in four years.
Tight inventory of existing homes for sale as well as a demand for more apartment units are fueling demand for new construction.
One Southern California builder, Olson Homes, expects sales to be up 45% this year over last. "We've had the best fourth quarter I've seen since probably 2005-2006," Scott Laurie, the company's president, told The Associated Press. "Sales have been unbelievably strong."
But several factors are keeping all the builders from jumping into the optimistic camp. Among those are high unemployment and a familiar refrain in the builders' monthly news release: tight credit.
"While there is still much room for improvement, the consistent upward trend in builder confidence over the past year is indicative of the gradual recovery that has been taking place in housing markets nationwide and that we expect to continue in 2013," NAHB chief economist David Crowe said. 
FIND YOUR DREAM HOME OR APARTMENT
msn real estate is social
WHAT'S YOUR HOME WORTH?
HOME IMPROVEMENT PROFESSIONALS
more on msn real estate