Home prices close out 2011 on a sour note
In December, all three Case-Shiller home-price indexes and four major cities reach post-housing-crisis lows. Is this the housing bottom?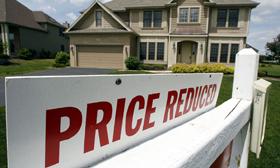 That thud you heard in December? It was home prices hitting their lowest level in nearly a decade.
S&P/Case-Shiller reported today that its 20- and 10-city home-price indexes reached their lowest points since the housing crisis began in 2006. The 20-city index was down 1.1% in December, compared with November, and down 4% from December 2010. The 10-city index also was down 1.1% from November and slipped 3.9% from December 2010. In the fourth quarter of 2011, prices decreased 3.8% from the previous quarter and 4% from a year earlier.
Home prices now sit at late-2002 levels nationally, with all three indexes — plus Atlanta, Las Vegas, Seattle and Tampa, Fla. — hitting low points since the downturn began in 2006.
Post continues below
Meanwhile, Detroit and Dallas were the only cities the index tracks that showed a year-to-year increase, though Motor City prices fell 3.8% from November to December. Atlanta registered the deepest annual decline, with prices dropping 12.8% year to year. 
David M. Blitzer, chairman of S&P's index committee, said in a press release that these data closed the year on a "disappointing note," all but wiping out hopes of market stabilization.
"The pickup in the economy has simply not been strong enough to keep home prices stabilized," he said. "If anything, it looks like we might have re-entered a period of decline as we begin 2012."
What's the culprit? Slow economic growth, for one, Blitzer said.
As Teresa Mears pointed out here yesterday, the price dip also could be a partial byproduct of more realistic expectations on the part of home sellers. More than 50% of sellers say they're pricing their homes more competitively than they would have last year, a recent Coldwell Banker study says. Some commenters on our Facebook page agreed; one noted that he had seen sales fall through because "the seller was not willing to accept the market realities."
Falling prices in the luxury-home sector, which didn't see huge declines in the recession, also are emerging. AnnaMaria Andriotis wrote on SmartMoney's blog that some cities are witnessing stabilization among lower-priced properties but signs of decay among higher-priced ones:
To date, homeowners in expensive neighborhoods have been better equipped to handle the housing downturn than those with the lowest-priced real estate within the same city, says (housing analyst Jack) McCabe. Well-off homeowners who lost their jobs were more likely to have savings or retirement accounts they could dip into to pay their mortgage, says Brad Hunter, chief economist at Metrostudy, a housing market research and consulting company. Many of them also had valuable assets to sell, such as jewelry or cars, to stay afloat. But with the job market still weak, those still trying to find work could be running low on ways to pay their mortgage, says Hunter. A growing alternative could be to go into foreclosure, experts say, which would in turn lower prices of nearby homes.
On the bright side, January's market statistics already look promising, at least in terms of increased housing demand. The National Association of Realtors reported yesterday that the number of homes under contract reached its highest level since the days of the homebuyer tax credit. Existing-home sales also hit a 20-month high.
And they could be even higher, if billionaire Warren Buffett followed through on his comments to CNBC yesterday about buying up "a couple hundred-thousand" homes.  
The Berkshire Hathaway CEO also made headlines yesterday for admitting in that company's shareholders letter that he was wrong to say the housing market would recover this year. He did add, however, that "housing will come back — you can be sure of that."
— Tony Stasiek is a producer/editor at MSN Real Estate.
FIND YOUR DREAM HOME OR APARTMENT
msn real estate is social
WHAT'S YOUR HOME WORTH?
HOME IMPROVEMENT PROFESSIONALS
more on msn real estate