CoreLogic: Home prices up 2.5% in year
All of the states showing the greatest rate of home appreciation were out West. Prices rose 1.3% from May to June, the fourth consecutive month of improvement.
Here's another set of statistics that supports the optimist's view that the housing market has turned the corner: Home prices rose 2.5% in the past year, according to CoreLogic. From May to June, prices nationwide rose 1.3%, the fourth consecutive month to register an increase.
"At the halfway point, 2012 is increasingly looking like the year that the residential housing market may have turned the corner," Anand Nallathambi, president and CEO of CoreLogic, said in a news release. "While first-half gains have given way to second-half declines over the past three years, we see encouraging signs that modest price gains are supportable across the country in the second half of 2012."
Post continues below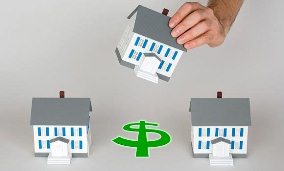 Taking distressed sales (bank-owned and short sales) out of the picture, prices rose 3.2% from June 2011 to June 2012.
Demand is rising, but the supply of homes for sale has fallen substantially in the past year, which has helped to raise prices, particularly in markets that were hard-hit by the crisis.
"Only a little bit of the market is tradable because you have so much negative equity," Stan Humphries, Zillow's chief economist, told The Wall Street Journal. "You have very few people willing to sell homes, and a big uptick in demand can create some real price appreciation."
The states that showed the greatest price appreciation in the past year, according to the CoreLogic analysis, were:
Arizona, 13.8%

Idaho, 10.4%

South Dakota, 10.1%

Utah, 8.3%

Wyoming, 7.7%
The states that showed the great decrease in value were:
Alabama, 4.8%

Connecticut, 4%

Illinois, 3.4%

Georgia, 2.9%

Delaware, 2.8%
The states showing the largest declines in property value since the peak were Nevada, 57.1%; Florida, 45.3%; Arizona, 44.1%; California, 39.2%; and Michigan, 39%. 
Demand for home mortgages is higher than it was in 2009 and 2001, when buyers got federal tax credits, Boulder, Colo., mortgage banker Lou Barnes told The WSJ.
"Main Street morale has brightened a great deal here," he told the newspaper. "Sellers have lost their fear of giving away a house. Buyers have lost their fear of doing something dumb."
About Teresa Mears
Teresa Mears is a veteran journalist who has been interested in houses since her father took her to tax auctions to carry the cash at age 10. A former editor of The Miami Herald's Home & Design section, she lives in South Florida where, in addition to writing about real estate, she publishes Miami on the Cheap to help her neighbors adjust to the loss of 60% of their property value.
msn real estate is social
FIND YOUR DREAM HOME OR APARTMENT
WHAT'S YOUR HOME WORTH?
HOME IMPROVEMENT PROFESSIONALS
from our partners