Homes are stars in Christmas movies
Some memorable holiday homes were created on Hollywood sets, but others were real homes, and one is still for sale.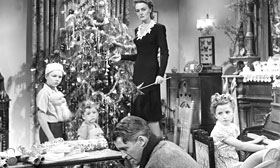 One common feature of Christmas movies is their décor. That often includes beautiful homes, beautifully decorated.
The home is often a key ingredient in a holiday movie. The Chicago-area house where "Home Alone" was made, for example, remains famous 21 years after the film was made. It's still for sale, by the way, with the price cut from $2.4 million when it was listed this spring to $1.95 million.
Fan of old homes wax nostalgic over the white Victorian that Jimmy Stewart and Donna Reed threw stones at on their first date and then inhabited as a married couple who never made it out of Bedford Falls in "It's a Wonderful Life." We can't update you on the history of that house because it never existed; it was created on a sound stage.
All those winter scenes were created in sunny Los Angeles, which I think is a far better setting for holiday fun than someplace with snow. I have not dreamed of a white Christmas since I had to drive in snow.
Speaking of "White Christmas," the Columbia Inn in Pinetree, Vt., where much of the action takes place, also was created on a sound stage.
For those who like their Christmas without snow and chestnuts roasting on an open fire, many Christmas movies are set in Southern California. "Bad Santa" was filmed at a house in West Hills, Calif. The house was recently sold for $950,000 but Zillow still has the listing photos here.
Here are a few more Christmas movie homes that are still standing:
What's your favorite Christmas movie home, either real or created for film?
Are you sure you want to delete this comment?
FIND YOUR DREAM HOME OR APARTMENT
msn real estate is social
WHAT'S YOUR HOME WORTH?
HOME IMPROVEMENT PROFESSIONALS
more on msn real estate