Listing of the Week: Artful pods among the cacti
Unique Arizona house in 3 sections provides stunning views of the surrounding mountains and desert. Says the architect, 'It's really an art piece.'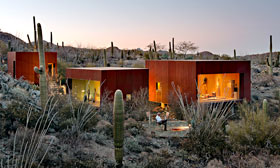 If you're looking for quiet neighbors, you can't do much better than cacti. The ones I have lived among have never made a sound.
The cacti are the only neighbors of the Desert Nomad House outside Tucson, Ariz., a modern dwelling constructed of three boxes connected by gravel paths. The home, finished in 2005, is a work of art, its interiors enhanced by the eye of its owner, an art dealer.
The unusual home is not for everyone. It has been on and off the market since February 2011 and is currently priced at $895,000, down from the original listing price of $975,000. The pictures are stunning.
Post continues below
"It's my most conceptual project," architect Rick Joy told The Architectural Record. "It's really an art piece."
The home is about 1,500 square feet, with a 780-square-foot pod containing the living room, dining area and kitchen, an additional 440-square-foot box for the bedroom and a third box, of 200 square feet, as a guest room/den. You don't have to worry about running into a cactus while going to the bathroom in the middle of the night – each pod has either a full or half bath. There is also a separate carport.
The boxes are made of rusted steel with walls of windows, which bring the desert landscape inside. Each room is oriented toward a different view, including the surrounding Tucson Mountains, the Saguaro National Monument and the city lights of Tucson. Maple floors and paneling warm up the interiors.
The home was conceived for an owner who spent about $650,000 and then had to abandon the project. Current owner Walter Cecil bought it for $279,000, with eight acres of land, and spent an additional $370,000 to finish it. He is selling because he spends most of his time in San Francisco, where his business is.
"I've been an art dealer, but living in a piece of art is different," Cecil told The Wall Street Journal. "When you realize the intelligence in the design ... I would not change anything — not a single thing. It is absolutely perfect." 
The house is on 4.64 acres, with an adjoining three-plus acres that were offered for $250,000 last year. It's about 15 minutes from the outskirts of Tucson and an additional 10 minutes into town.
If you want to try out the house before you buy, it's occasionally available for rent.
FIND YOUR DREAM HOME OR APARTMENT
msn real estate is social
WHAT'S YOUR HOME WORTH?
HOME IMPROVEMENT PROFESSIONALS
from our partners