Listing of the Week: Madonna's 90210 mansion
The singer is asking $22.5 million for her home in Beverly Hills. She also has one of her New York City properties up for sale.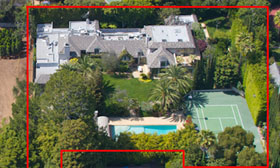 Madonna, who has bought and sold many a home over the years, is selling another one: her mansion in Beverly Hills.
The 17,000-square-foot home, which she reportedly bought from actress Sela Ward for $12 million in 2003, had been for sale with an asking price of $28 million since at least March in a "pocket listing" – which means it was available but not in the multiple listing service. Now it's in the MLS, with an asking price of $22.5 million.
The listing doesn't include any interior photos, so we can't say much about the decor. The Real Estalker quotes "a little birdie we know who's been up in the house" as saying the decor is "comfy" and "surprisingly normal."
Post continues below
The main house was built in 1912, according to public records, and it is in the 90210 ZIP code of TV fame, with a 500-foot-long driveway that comes off Sunset Boulevard. The 17,000 square feet apparently includes the two guest houses, and collectively the houses have nine bedrooms and 15 baths.
The 1.17-acre lot also has tennis courts and a pool, plus "lushly landscaped grounds offering total privacy."
According to the listing, "The recently remodeled house has all the finest quality details and amenities. … No detail was overlooked and no expense has been spared in maintaining the house meticulously. The best Beverly Hills has to offer."
This is Madonna's only abode in Los Angeles. According to Zillow, the entertainer has a $32 million townhouse in Manhattan, a duplex on the Upper West Side of New York she has listed for sale for $23.5 million and an estate in Bridgehampton, N.Y.
About Teresa Mears
Teresa Mears is a veteran journalist who has been interested in houses since her father took her to tax auctions to carry the cash at age 10. A former editor of The Miami Herald's Home & Design section, she lives in South Florida where, in addition to writing about real estate, she publishes Miami on the Cheap to help her neighbors adjust to the loss of 60% of their property value.
msn real estate is social
FIND YOUR DREAM HOME OR APARTMENT
WHAT'S YOUR HOME WORTH?
HOME IMPROVEMENT PROFESSIONALS
from our partners