Trulia: Buying costs 45% less than renting
If buying is such a great deal, why aren't more people doing it? Difficulty saving for a down payment, poor credit and job instability lead the list of reasons outlined in a new report.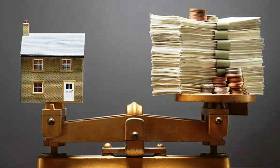 If you have good credit, itemize deductions on your tax return and plan to stay in your home at least seven years, buying is cheaper than renting in all 100 of the largest U.S. metro areas, including New York and San Francisco.
Nationwide, buying is 45% cheaper than renting, with the spread ranging from 70% in Detroit to 24% in Honolulu, according to Trulia's "Summer 2012 Rent vs. Buy Report."
"Despite the recent price rebound, rents continue to rise faster than prices, and mortgage rates are near record lows," Jed Kolko, Trulia's chief economist, said in a news release. "Homeownership makes the most financial sense for people whose strong credit scores let them snag the lowest mortgage rate and who get the biggest benefit from deducting mortgage interest and property taxes from their income taxes."
Post continues below
The Trulia analysis attempts to account for all the costs of homeownership, including closing costs, maintenance and property taxes. Cost of rentals includes a security deposit and renters insurance. The researchers looked at homes for sale and for rent from this past June to August.
In these cities, buying held the greatest edge over renting a comparable home:
Detroit: $1,149 a month to rent versus $349 to buy.

Gary, Ind.: $1,649 to rent versus $616 to buy.

Oklahoma City: $1,576 to rent versus $590 to buy.

Lakeland-Winter Haven, Fla.: $1,276 to rent versus $495 to buy.

Toledo, Ohio:  $1,222 to rent versus $476 to buy.
These are the cities where the cost of renting was the closest to the cost of buying:
Honolulu: $2,007 to rent versus $1,519 to buy.

San Francisco: $3,226 to rent versus $2,327 to buy.

New York City: $2,687 to rent versus $1,857 to buy.

San Jose, Calif.: $2,646 to rent versus $1,819 to buy.

Los Angeles: $2,020 to rent versus $1,379 to buy.
You can see the numbers for all 100 cities here.
Of course, to do these kinds of analyses, economists have to make certain assumptions. These calculations looked at renting similar homes, but renters often choose smaller spaces. Some of the metro areas have a wide variation in rents. While the cost of buying may be less than the cost of renting in the New York metropolitan area, buying may not be cheaper in prime neighborhoods in Manhattan.
Plus, if you don't have good credit, don't itemize deductions and don't plan to stay in a home at least seven years, your calculations would be different.
If buying is a better deal in so many areas, why aren't more people buying?
A new survey by Rent.com showed that 47% are still saving for a down payment, 22% are waiting for their credit scores to improve, 20% are waiting for better job security and 11% are waiting for the market to stabilize.
Trulia's Kolko writes:
Bottom line: Buying may beat renting in every major metro by a wide margin, saving consumers thousands of dollars a year, but buying still remains out of reach for many would-be homeowners.
FIND YOUR DREAM HOME OR APARTMENT
msn real estate is social
WHAT'S YOUR HOME WORTH?
HOME IMPROVEMENT PROFESSIONALS
more on msn real estate