Zombie-proof house is a modern fortress
Concrete dwelling with movable walls and a drawbridge probably would protect against tornadoes and hurricanes, too.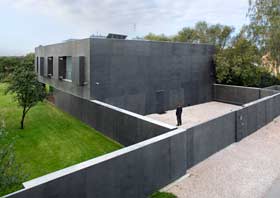 We've written about why you're unlikely to get a tornado-proof house. But you can get a house that protects you against another scary peril: zombies.
That's right. An architect in Poland designed and built a zombie-proof house.
We hadn't realized anyone was actually looking for a zombie-proof house, though Mai Ling did write previously about a zombie-proof safe room.
Perhaps interest in protection from zombies has risen since the Centers for Disease Control and Prevention last month warned Americans to prepare for a zombie apocalypse.
Depending on exactly how it's constructed, it looks as though the zombie-proof house would provide excellent protection against hurricanes and tornadoes. If you like modern architecture, it's very attractive, with walls of windows — you close those with movable walls if there is a chance of zombies — and an open floor plan.
The 6,100-square house is on the outskirts of Warsaw and was built between 2005 and 2009 for a client who wanted the ultimate in security. You can see floor plans and read some of the specs at architect Robert Konieczny's website. Click on "Safe House." The pictures are larger and easier to see at All That Is Interesting.
We're not sure who decided that "Safe" was also "zombie-proof," but we're willing to wager the owners will never succumb to zombie attack. We also couldn't find any information about the cost to build the home.
Despite living for years in a city where voodoo is routinely practiced and dead chickens are reportedly left on the courthouse steps as offerings to the Santeria gods for a good legal outcome, I had never given much thought to protection from zombies.
Post continues below
So what makes a house zombie-proof? It appears that you want to avoid the zombies entirely because they may eat your brains or bite you and give you a virus. That's when a concrete house with a drawbridge comes in handy. Apparently zombies, unlike ghosts, cannot go through walls.
While the house is likely to provide protection from myriad perils, some commenters at Digg weren't sure it would be 100% zombie-proof.
Wrote "Kyoung246":
Concern #1: How quickly do the walls close in? I wouldn't want to be sitting there behind an all-glass wall waiting anxiously for the concrete walls to fold in while "Zombieland/I Am Legend" zombies raced toward me. 

Concern #2: One entrance? With a house like that, it would probably be a good idea to have a very secure back door, maybe one that only opens from the inside. If, heaven forbid, zombies (or other undesirable creatures) were to breach the front door, I'd want a backup plan.
What do you think? Is this house zombie-proof enough for you?
FIND YOUR DREAM HOME OR APARTMENT
msn real estate is social
WHAT'S YOUR HOME WORTH?
HOME IMPROVEMENT PROFESSIONALS
more on msn real estate