Presidents' Day trivia: Places named for presidents
George Washington has the most places named for him. Abraham Lincoln ranks after Benjamin Franklin, who was never president.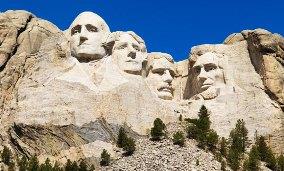 Americans have many ways to honor their presidents, and one of them is naming places after them.
In fact, according to the Census Bureau, the most common name for a place in the United States is Washington, after the country's first president, George Washington. Ninety-four places in the United States -- city, towns, counties and "minor civil divisions" -- are named Washington, and 33 others have Washington as part of the name, such as Port Washington.
Abraham Lincoln, whose Feb. 12 birthday was joined with Washington's Feb. 22 birthday to create the Presidents' Day holiday, ranks third in place names, with 70 Lincolns in the United States and an additional 25 place names with Lincoln as part of the title.
Interestingly, the second-most-common place name is Franklin, even though Benjamin Franklin was never president. The United States has 89 Franklins.
While George Washington never lived in the White House, he did select the location of Washington, D.C., as the nation's capital, as a compromise between Northern and Southern interests. His presidency ended in 1797, three years before Washington became the seat of government.
Places named after U.S. presidents aren't confined to the United States. There are streets named Washington in Santo Domingo, Dominican Republic; Belgrade, Serbia; Rome; Hamburg, Germany; and Paris, as well as Washington Park in Barranquilla, Colombia, and the small town of George Washington in Cuba's Villa Clara Province.
Also ranking in the top 10 place names are Jackson (66 places, 96 with Jackson as part of the name), Jefferson (61 and 84), Clinton (55 and 61), Madison (54 and 70) and Monroe (51 and 64). Of course, in some of those cases, it's likely the places aren't named for the president but for another, say, Clinton.
FIND YOUR DREAM HOME OR APARTMENT
msn real estate is social
WHAT'S YOUR HOME WORTH?
HOME IMPROVEMENT PROFESSIONALS
more on msn real estate