Madonna's childhood home for sale for $48,600
Michigan home's bargain price for a four-bedroom house is because of fire damage. The Material Girl herself is renovating a $32 million place in New York.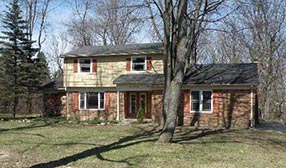 Usually celebrity real-estate news involves homes that cost millions of dollars. Most of us can't afford to buy those homes, but it's fun to look at the photos.
Here's a celebrity home that many of us could afford: Madonna's childhood home in Rochester Hills, Mich., is on the market for $48,600. The seller is willing to pay closing costs for an owner-occupant.
Even in Michigan, that's a low price for a four-bedroom, two-bath home on 1.22 acres. The median home value in Rochester Hills, about 25 miles north of Detroit, is $173,800, according to Zillow.
The reason Madonna's old home is going so cheap is because it needs lots of work after a fire blamed on arson gutted the home in 2008. It has been sitting empty since then, which is never good for a house. Curbed has additional photos, some of which show the fire damage.
The house was built in 1969. We don't know for sure whether her family were the original owners, but Madonna lived in the home from about age 12 until she left for New York in 1977. (Singer Bob Seger once lived on nearby property.)
Madonna's father and stepmother sold the house for $270,000 in July 2001, Zillow reports.
Post continues below
That buyer sold it on eBay for $331,000 in November 2001, apparently the highest price for the house. It subsequently sold for $324,000 in 2004 and $245,000 in 2005, according to Zillow's data.
The fire was believed to have been arson, and problems collecting the insurance and other financial reversals apparently kept the couple who owned the home from fixing it, despite fines by the city.
No one expects Madonna to come back and rescue the house. She makes her home in London and New York and is finishing renovations on a $32 million mansion in Manhattan.
FIND YOUR DREAM HOME OR APARTMENT
msn real estate is social
WHAT'S YOUR HOME WORTH?
HOME IMPROVEMENT PROFESSIONALS
more on msn real estate