The garage is dead — long live the garage?
The desire for urban living means that more homes are being built without garages — and more are being built with bigger garages.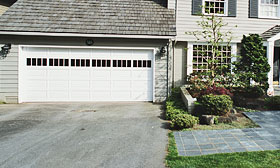 Is America's love affair with the garage over?
We're not ready to give back the ring yet, but new census data shows that the number of new single-family homes constructed without garages has risen from 8% in 2005 to 13% in 2011.
Living in an urban Florida neighborhood, where most people's garages were turned into efficiency apartments or additional bedrooms decades ago, we might have missed this trend. We already know where you put the band if you don't have a garage: in the living room, because you don't have a basement, either.
Post continues below
Then again, those of us in Florida are pretty sure we won't have to shovel snow off our car windshields any morning this winter, which we see as one of the main advantages of a garage in snowy climates.
According to a report in USA Today, the decline of the garage is probably attributable to the growing popularity of urban infill homes, many built on small lots with no room for garages — such as the older, urban South Florida neighborhoods where we have been living for decades without ever having a garage for a car.
The new urban homeowners also favor front porches, where they can talk with their neighbors, as well as smaller homes. The percentage of new homes with porches (front or back) has increased from 42% in 1992 to 64% in 2011, according to census data.
"The front porch acts as a social mechanism," said Christopher Leinberger, a Philadelphia-area developer who is president of Smart Growth America's LOCUS, which promotes walking over driving, in USA Today. "You sit on the porch and talk to people walking by without having to invite them in. It's outdoor space without taking up too much space."
In 1971, when the Census Bureau started compiling data on parking features of new homes, only 57% of homes built had garages and another 17% had carports. The carport began to decline in 1974; only 1% of homes built since 1996 have had carports.
We're pretty sure the garage is not leaving suburbia any time soon. The same report noted that 18% of the new homes built in 2011 had garages big enough for at least three cars — a number that did not appear on the report until 1992. That was  down from a high of 20% of homes with three-car garage built in 2005. Another 62% of homes had two-car garages.
Would you give up your garage to live in a smaller home with a front porch in a more urban neighborhood?
FIND YOUR DREAM HOME OR APARTMENT
msn real estate is social
WHAT'S YOUR HOME WORTH?
HOME IMPROVEMENT PROFESSIONALS