Buyers want smaller homes and urban life
The two largest groups of Americans, Gen Y and the baby boomers, both favor urban living. That, plus new economic realities, will change the future of real estate, a report says.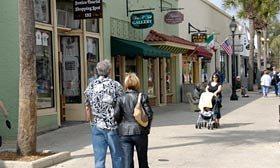 A conference last week in Dallas provided yet another piece of evidence that the real-estate market of the future is not going to be like the market of the past.
Putting another nail in the coffin of far-flung suburbs, the Urban Land Institute, drawing from a recent report, provided yet more evidence that future homebuyers will want something different.
The new homebuyer wants a smaller home in an urban area, as well as a shorter commute to work and smaller payments.
Post continues below
"This is not just another real-estate cycle but a fundamental change," Maureen McAvey, executive vice president of policy and practice for the institute, told an audience in Oregon earlier this month.
Her talks in Dallas and in Portland, Ore., were based on the institute's report titled "What's Next? Real Estate in the New Economy," which the organization released last fall.
Here are some of the highlights:
Rising commuting costs, both in money and in time, are increasing Americans' desires to live near restaurants, shops and services. That is especially true of the two largest groups: Generation Y and the baby boomers.

Gen Y prefers a more urban environment and is willing to sacrifice space for a better location. Plus, lower incomes mean they need to find homes at lower rents and lower mortgage payments.

Demand for larger homes and apartments will come from intergenerational families, as aging boomers are forced to live with their children or adult children are forced to continue living with parents. Friends and acquaintances also may chose communal living arrangements in larger spaces to save money. 

More people over 65 will choose to age in place or be forced to move in with relatives. Many of those who are free to move, like their Gen Y counterparts, favor smaller spaces in urban areas.

More Americans will rent, either by choice or by necessity.
"Markets become ever more segmented and specialized — one size certainly no longer fits all," the report says in its conclusion. 
"Housing demands diverge among splintering household types. Expanding cohorts like intergenerational families, single women living alone, Gen Y couples and boomer empty-nesters all pursue different lifestyles, while traditional nuclear families seem ever less dominant."
FIND YOUR DREAM HOME OR APARTMENT
msn real estate is social
WHAT'S YOUR HOME WORTH?
HOME IMPROVEMENT PROFESSIONALS
more on msn real estate