Grants to help Sandy victims get back in homes
FEMA rolls out a pilot program to pay for emergency repairs rather than lodging in New Jersey and New York.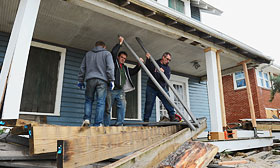 In an effort to get people back into their homes after superstorm Sandy, the Federal Emergency Management Agency has rolled out a pilot program to speed repairs in New Jersey.
The Sheltering and Temporary Essential Power (STEP) program, already in effect in New York, was extended to five New Jersey counties. The program provides grants of up to $10,000 for quick repairs that will enable residents to live in their homes while awaiting more extensive repairs.
At the time the program was announced last week, the occupants of more than 2,600 New Jersey households were still in hotels or other temporary quarters paid for by FEMA. An unknown number of others are staying with relatives and friends.
Post continues below
"Nearly four weeks after Hurricane Sandy made landfall in New Jersey, there are many residents who remain displaced from their homes because of a lack of heat, hot water or the ability to accept electricity. Under the STEP program, we will be able to make emergency temporary repairs to homes to make them safe and habitable, prevent additional damage during this winter season, and allow even more families to return to their homes while longer-term repairs are arranged," New Jersey Gov. Chris Christie said in a statement. "We have made great strides since the height of the storm in restoring utility service and getting people back in their own residences, and this program will allow us to continue that work for those families facing these last hurdles to returning home."
The program provides money for repair of electrical meters, heating and hot water systems and temporary repairs to the exterior needed to allow people to live in their home or keep it from further damage. The program, paid for 75% by the federal government and 25% by municipal governments, is not intended to provide permanent repairs. FEMA and local governments are working with contractors to get the work done.
Residents who receive the grants won't be eligible for further lodging assistance, except in special cases. After receiving a grant, a resident has 60 days to complete the work.
In New Jersey, the program is available to residents of Atlantic, Cape May, Middlesex, Monmouth and Ocean counties. In New York, the aid is available to residents of the five boroughs of New York City plus Nassau County.
If you're wondering whether something you've heard about help for storm victims is true, check out FEMA's rumor control site. FEMA notes that people claiming to be "city assessment contractors" are soliciting residents of Staten Island to do repairs and asking for immediate payment, claiming the homeowners will be reimbursed by FEMA. This is not how the program works."
More information on aid is at FEMA's Hurricane Sandy page.
Thankfully FEMA is helping those in need after Hurricane Sandy!  My family suffered a similar fate January 19, 2012 in Turner, Oregon.  Only our storm did not have a "name".  A flood took away our 2,400 sq ft home on 2 acres that we owned for 12 years, 3 vehicles, travel trailer, horse trailer, everything.  We had 33 in. of standing water through out our home.  When the water rose so high, we were forced out via evacuation by the local Fire Dept., they came to our house to assist in carrying my 95 year old grandmother (who lives with us full time) 85 feet to our car at the end of our driveway so we could get to higher ground.  She is in a wheelchair, so we needed their help.  When the water receded our house was inspected by Marion Co. Planning Dept., and they deemed our home "uninhabitable" by humans.  We were told we could not go back until we raised the home up 4 feet.  This cost was between $80,000 - $200,000.  After exhausting every option for help we had no choice but to walk away.  FEMA told us that we did not qualify for assistance since our County did not receive enough "individual" damage.  Yet the State & County offices did qualify for aid.  My family now lives in my parents 1,100 sq ft mobile home in a 55+ park, while they are stranded in Yuma AZ.  It has been noted that our property was the hardest hit property in all of Marion County, yet we received no help from FEMA, Red Cross, Habitat for Humanity, nobody.  And to top it off, we were recently foreclosed upon.  My  two children, husband and Grandmother and I are all crammed in this place with no end in sight.  So I sincerely hope that everyone who is receiving help appreciates it to the fullest.  I only wish my family was so lucky!  We lost it all & have to rebuild our lives from scratch.
Are you sure you want to delete this comment?
FIND YOUR DREAM HOME OR APARTMENT
msn real estate is social
WHAT'S YOUR HOME WORTH?
HOME IMPROVEMENT PROFESSIONALS
more on msn real estate