Still-futuristic 'Sleeper' house faces foreclosure
The home featured in the 1973 Woody Allen movie is set for the auction block next month.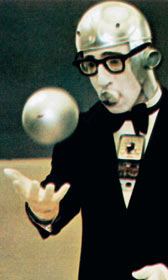 The home made famous by the 1973 Woody Allen movie "Sleeper" is set for the auction block, Orgasmatron and all, according to The Wall Street Journal. (Bing: Photos of Woody Allen)
The clamshell-looking home in Jefferson County, Colo., is set for auction Nov. 10 after owner Michael Dunahay fell behind on the $3.1 million mortgage for the home, which the Denver entrepreneur bought in 1999.
My guess is that the Orgasmatron is still intact, considering that the "fictional device used to stimulate people in Sleeper's sex-free future," as described quite tastefully by The Journal, is actually the home's elevator.
Although the house is casually referred to as the Sleeper House, it actually was named the Sculptured House when it was built in 1963 by commercial architect Charles Deaton, The Journal writes.
However, even without its rise to fame in the movie "Sleeper," it still claims a prominent spot atop Genesee Mountain, where passers-by traveling between Denver and Colorado's biggest ski mountains would be unable to miss the still-futuristic-loo​king, 7,000-square-foot, three-story building.
Still it had been vacant for years when Dunahay, who founded time-share company Vacation Solutions, bought the home, which he later renovated and expanded, The Journal says.
How much do you think the famous saucer-shaped house will fetch now?
Are you sure you want to delete this comment?
About Teresa Mears
Teresa Mears is a veteran journalist who has been interested in houses since her father took her to tax auctions to carry the cash at age 10. A former editor of The Miami Herald's Home & Design section, she lives in South Florida where, in addition to writing about real estate, she publishes Miami on the Cheap to help her neighbors adjust to the loss of 60% of their property value.
msn real estate is social
FIND YOUR DREAM HOME OR APARTMENT
WHAT'S YOUR HOME WORTH?
HOME IMPROVEMENT PROFESSIONALS
from our partners