Home prices still falling in most cities
The lastest Case-Shiller statistics show new post-recession lows for 9 cities. But the rate of decline seems to be slowing, and 5 cities showed higher prices over last year.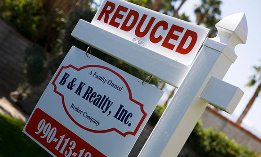 The latest Case-Shiller statistics are a reminder that while we may see a light at the end of the tunnel, it could be a long tunnel.
Prices fell in 16 of the 20 markets tracked by the S&P/Case-Shiller Home Price Indices from January to February, the sixth straight month of decline for most cities. Nine cities hit new post-recessions lows.
The steepest falls month over month were in Atlanta, Chicago and Cleveland. Prices in Dallas were unchanged. Prices rose in Phoenix, Miami and San Diego.
Post continues below
If you're looking for a hint of good news, it's that the rate of home-price decline was less in February than in January in most of the cities. The 10-city index declined 3.6% and the 20-city index declined 3.5%. That compares with 4.1% and 3.9% for the previous month.
"While there might be pieces of good news in this report, such as some improvement in many annual rates of return, February 2012 data confirm that, broadly speaking, home prices continued to decline in the early months of the year," David  M. Blitzer, chairman of the Index Committee at S&P Indices, said in a news release.
Atlanta continued to show the greatest weakness, hitting its fifth straight month of double-digit decline. Home values have declined 17.3% there in the past year, by far the worst record of any city in the index.
The nine cities that hit post-boom lows were Atlanta; Charlotte, N.C.; Chicago; Cleveland; Las Vegas; New York; Portland, Ore.; Seattle; and Tampa, Fla.
Several of the cities that were hardest hit by the real-estate bust and the foreclosure crisis posted the best results.
Prices in Phoenix were up 1.2% for the month and 3.3% for the year. In Miami, prices were up 0.6% for the month and 0.8% for the year. Detroit, Denver and Minneapolis also posted year-over-year price increases.
The Wall Street Journal has a good interactive chart where you can see monthly and annual statistics.
Analysts saw the numbers as a reminder of how far the market still has to go to reach full recovery.
"We think home sales will continue to trend upward, which ultimately will result in a slower rate of home-value depreciation," said Stan Humphries, chief economist at Zillow.com. "But any housing recovery will be dependent on job growth."
About Teresa Mears
Teresa Mears is a veteran journalist who has been interested in houses since her father took her to tax auctions to carry the cash at age 10. A former editor of The Miami Herald's Home & Design section, she lives in South Florida where, in addition to writing about real estate, she publishes Miami on the Cheap to help her neighbors adjust to the loss of 60% of their property value.
msn real estate is social
FIND YOUR DREAM HOME OR APARTMENT
WHAT'S YOUR HOME WORTH?
HOME IMPROVEMENT PROFESSIONALS
from our partners