The future of housing may be in your basement
The economic woes of the 'echo boomers' may keep them out of the housing market. That's not good news, because that generation is key to housing's future.
Who holds the key to the future of the housing market? Look at the hands playing video games in your basement.
According to a new report, the "echo boomers," born between 1981 and 1995, will account for 78% to 80% of sales of owner-occupied homes to people ages 65 and under between now and 2020.
"In the next 10 years, the echo boomers are almost the entire story," said Rolf Pendall, director of the Urban Institute's Metropolitan Housing & Communities Policy Center, at a recent housing conference in San Antonio. Pendall was one of the authors of the report, "Demographic Challenges and Opportunities for U.S. Housing Markets."
Post continues below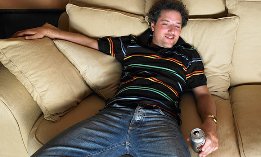 Unfortunately, those echo boomers may be less likely to buy homes than the generations that preceded them, for emotional and financial reasons.
Derek Thompson looked at several reasons why young people are less likely to buy homes, in a story in The Atlantic headlined, "The end of ownership: Why aren't young people buying more houses?"
One factor is a decline in marriage. Other reasons are economic. Thompson writes:
In the last three years, mortgage interest rates have fallen tremendously, creating a good opportunity for people with means to get in on a house. But who's got the means and opportunity? Unemployment for twenty-somethings is twice as high as the national average. Banks have tighter credit conditions on all but the highest-quality borrowers.
Student-loan debt is a major reason that young adults can't buy homes.
Bob Willis at Bloomberg Businessweek quotes a recent Federal Reserve study that found that only 9% of 29- to 34-year-olds got their first mortgage between 2009 and 2011, down from 17% a decade before.
"Just as the housing bubble created a mortgage debt overhang that absorbs the income of consumers and renders them unable to engage in consumer spending that sustains the economy, so too are student loans beginning to have the same effect, which will be a drag on the economy for the foreseeable future," said John Rao, vice president of the National Association of Consumer Bankruptcy Attorneys, in the Businessweek article.
While younger people are buying fewer houses, baby boomers will be selling more homes, creating more supply at a time of less demand. The demographic report explains it this way:
Among adults entering their 60s, the pace of household dissolution begins to exceed that of household creation, meaning that this cohort releases more housing units into the supply than it absorbs. Just as the baby boom will swell the number of seniors in the next two decades, it will also swell the number of dwellings released into the housing market over the next four decades, creating new challenges and opportunities for housing policy. The increase is likely to be felt most acutely in the housing markets of the Northeast and Midwest, where the number of older homeowners seeking to sell their homes already accounts for a large share of the houses bought by younger homebuyers.
The state of the overall economy will make a big difference in how echo boomers approach homebuying, the report says:
Regardless of the economy and policy, echo boomers will account for between 75 and 80 percent of the owner-occupied housing absorbed by people under 65 before 2020. A strong recovery with favorable housing-market conditions would translate to substantial growth in echo boomer households. Resulting demand would help absorb houses that are currently vacant or being withheld from the market, and would accelerate a return to conditions that are conducive for residential construction. A weak economy and job market, by contrast, would substantially depress household formation and homeownership by this important segment of the population.

My husband and I are 58 and 59.  I am unable to work so we are living on my husband's income.  We have used up quite a bit of retirement savings on medical expenses.  We are doing okay but it is tight.  We owe $15K on our morgage.  We have been thinking of selling our house, paying off the morgage and then renting for the rest of our lives.  Part of the reason is that we are falling behind on repairs and yard work do to lack of funds or ability to do them ourselves.  We haven't made a final decision, but it looks more and more attractive every day.

Looking at my four grown children, none had any interest in owning a home until they married and had children.  And, they put off both as long as possible.  Then none were willing to make the sacrifice to save up a 20% down payment. They thought a big down payment was throwing money down the toilet !  So here we are, one child out of four owns a home, bought with no down payment and is now upside down. The other three children look at that, and all the maintenance required, and say they are lucky they did not buy !   These three rent homes, and their rent payments are much less the the house payments of the child that bought !  I see this as a growing segment of the future.

young people DO want soaker tubs, because you fcan't bathe your kids in a steam shower!   Seriously, "young single and in an apartment with a tv and a couch" is a lot different than "young with two kids who get dirty and need a backyard and a playroom."   I and my family need a lot of bathrooms, a lot of family room (basements are good for this), and a lot of outlets for all that electronic part of life. 
I am 56 this year and 2 years ago i bought a 120 y.o. house for 37,000. This house has a new roof, new wiring complete and a completely rebuilt furnace to like new and has been sheetrocked which with all this, i could not pass this up.5 bedrooms and 2 full baths.My wife and i are going to rebuild this house on the inside and some out to meet our needs when too old to get around well.Our goal is to stay here and omit nursing home,a nurse will come here which is also a popular way to go now.We have 2 kids that live elsewhere for now and they know they can move here if need be but they will get house when we pass on.They will probably sell it at that time as the house will be too old then.
Are you sure you want to delete this comment?
FIND YOUR DREAM HOME OR APARTMENT
msn real estate is social
WHAT'S YOUR HOME WORTH?
HOME IMPROVEMENT PROFESSIONALS
more on msn real estate