'Granny pods' provide shelter for aging parents
Prefab cottages are designed to be placed on a relative's property. All are equipped for the elderly and some include high-tech medical monitoring.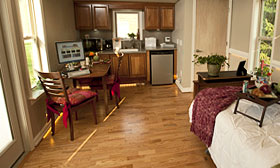 Sharing your property with aging parents isn't new. You can find many old houses with cottages and many new ones with two master suites or an extra living unit.
A number of companies are now selling prefab "granny pods," which you can put on your property to house parents who want to live independently but no longer want to maintain an entire home. One of the most sophisticated units for elderly parents is the MEDCottage, which was recently mentioned in The New York Times.
Post continues below
The 12-by-24-foot cottage has a sleeping area, living area, bath and kitchenette. But it also has features designed specifically for the frail elderly.
The floors, for example, are rubber, to lessen the chance of injuries from a fall. Among the other features:
A mat stretching from the bed to the toilet lights up when you step on it, then turns itself off after 20 minutes.

Tracks along the ceiling can be used to install a lift or a hook to help residents with balance issues.

A camera sweeps the area along the floor, so the people in the main house can see if their loved one falls.

A medicine dispenser reminds the occupant if he fails to take his meds and also sends a text message to the caregivers.

A system is installed that will track blood pressure, glucose, heart rate and blood gases.
The first MEDCottage is being installed this month in Alexandra, Va. It's not cheap: about $85,000. But the company will buy it back after two years for $38,000, The Times reported.
"Granny pods" without all the high-tech touches are being sold by other companies as well.
In the Northeast, residents can buy or lease P.A.L.S., short for Practical Assisted Living Structures. The cottages don't include the sophisticated medical monitoring systems, though such a system can be added for about $16,000, The Times reported.
The Huffington Post has information on other "granny pods." And, of course, you could just build one from scratch, retrofit rooms in your house or buy the house next door.
FIND YOUR DREAM HOME OR APARTMENT
msn real estate is social
WHAT'S YOUR HOME WORTH?
HOME IMPROVEMENT PROFESSIONALS