NYC picks first 'micro-unit' developer
Building will include 55 apartments of 250 to 370 square feet and will be the first multifamily building made of prefab units.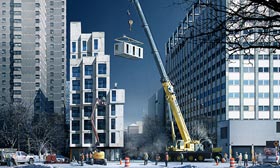 Meet the New York apartment of the future: a 250-square-foot studio with high ceilings, big windows and convertible furniture.
The design, created by Monadnock Development, Actors Fund Housing Development Corp. and nArchitects, was chosen by New York as part of a contest to select a developer for city's first micro-unit apartment building on city-owned land.
The project also will be the city's first multifamily building to use prefab modules, which will be made at the old Brooklyn Navy Yard.
Post continues below
"New York's ability to adapt with changing times is what made us the world's greatest city, and it's going to be what keeps us strong in the 21st century," Mayor Michael Bloomberg said in a news release. "The growth rate for one- and two-person households greatly exceeds that of households with three or more people, and addressing that housing challenge requires us to think creatively and beyond our current regulations."
New York is one of several large, expensive cities looking to "micro-apartments" to provide affordable housing. San Francisco also is looking at smaller apartments in the urban core.
The Manhattan apartments will rent for $914 to $1,873 a month and will be available to people making up to $77,190 a year. Average rent for a studio in Manhattan is $2,000 a month, according to The New York Times. These apartments are what the protagonists of "Sex and The City" and "Friends" could really afford.
The apartments will range from 250 to 370 square feet and will have two "zones": a kitchen-bathroom-sto​rage area and a living-sleeping area. The kitchen has room for full-size appliances, and the living area has a Murphy bed. The unit also has a full-depth closet and a 16-foot storage loft. You can see how the apartment can change for various functions here.
The 55-unit building would have a number of amenities to make living in small spaces more comfortable, including a gym, rooftop garden, laundry, bike storage and lounge areas on most floors.
The winning design was unveiled at the Museum of the City of New York, which is including the design in its new exhibit, Making Room: New Models for Housing New Yorkers. The exhibit also includes other micro-unit designs. Curbed: New York has lots of photos.
FIND YOUR DREAM HOME OR APARTMENT
msn real estate is social
WHAT'S YOUR HOME WORTH?
HOME IMPROVEMENT PROFESSIONALS
more on msn real estate