You can rent Bella and Edward's honeymoon home
The tropical getaway is in coastal Brazil, in a location not quite as remote as the fictional Isle Esme. The home's interior was re-created on a U.S. sound stage.
I must confess I have never read a "Twilight" book or watched one of the movies. The last vampire I followed with interest was Barnabas Collins in the old "Dark Shadows" TV series.
Still, I take my obligation to my readers seriously, so I have rounded up the scoop on the real-estate angle of "The Twilight Saga: Breaking Dawn — Part 1" for you.
The beautiful house where Bella and Edward spend their honeymoon (what happened to Jacob?) is on the rugged coast of Brazil, between Sao Paolo and Rio de Janeiro. You can rent it for about $3,900 to $8,400 a night. You will have to bring your own vampire — or mortal love interest.
Post continues below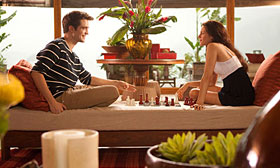 Julia at Hooked on Houses is a "Twilight" enthusiast. She has put together a post with photos of the real house and scenes from the movie, some of which were shot on a sound stage in Louisiana.
You can also see a slide show at Architectural Digest, which featured the house in January.
The home was built as a vacation retreat for Ícaro Fernandes, a real-estate developer and businessman, his wife, Cristina, and their five children, who live in Sao Paolo, about three hours away.
It was designed by architects Bernardes + Jacobsen, a firm where several generations of architects have long designed interesting tropical-modern houses, according to Architectural Digest.
The inspiration for the house came from the traditional Brazilian fisherman's cottage, though at 11,000 square feet, this tropical retreat is much larger. The home has a two-story living area, with pivoting glass doors that make it possible to open the house to the outdoors and the enormous shaded verandah. You can see this area, or the sound stage re-creation, in the movie.
To get to the house, which has its own private beach, you have to travel by boat or helicopter, one reason it was a good choice for Isle Esme, an isolated atoll owned by Edward's mother.
In a subsequent article, Architectural Digest talked to the film's production designer, Richard Sherman, about how the film combined scenes of the real house with scenes shot on sets in the United States.
Sherman explained to Architectural Digest how the Casa de Paraty was chosen:
"We looked at pictures and found a house we loved. But two days later we learned it was going to be blown up because it had been built illegally. The next morning I got on a plane to Brazil, hopped on a boat and went through countless islands along the coastline south of Rio. It took us four weeks to finally find the Bernardes + Jacobsen house, which had a tropical modern interior and was located near Paraty on the coast that we liked."
Are you sure you want to delete this comment?
FIND YOUR DREAM HOME OR APARTMENT
msn real estate is social
WHAT'S YOUR HOME WORTH?
HOME IMPROVEMENT PROFESSIONALS
more on msn real estate