Here's a wall you can eat
Wall of lettuce showcases the trend toward vertical gardening. Inside Chicago's O'Hare International Airport, gardeners are growing lettuce on columns.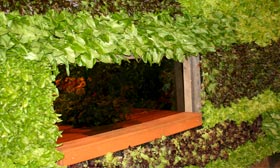 Gardening can be great, but it also can be a real pain in the knees, backs, legs, etc., with all the bending it requires.
Now baby boomers are making gardening bend — or, in this case, not bend — to their desires. The popularity of vertical gardening is rising.
Vertical gardening makes it easier to raise vegetables, herbs and other plants without bending. The recent Philadelphia International Flower Show featured a wall of lettuce that was 9 feet high and 40 feet long, designed by gardening author Amy Goldman.
Post continues below
The Northwest Flower & Garden Show in Seattle also had a vertical succulent garden.
When you're growing veggies, planting on trellises or in containers instead of in the ground also can protect your plants against some bugs and varmints. Plus, it allows you to create gardens in smaller spaces.
I was intrigued by the wall of lettuce at the Philadelphia show. You can find a number of books about vertical gardening, including growing vegetables in small spaces.
In Chicago, the first aeroponic garden in an airport opened last fall inside O'Hare International Airport. The garden supplies fresh produce for airport restaurants. You can see photos of the crops, including lettuce growing on a column, on Urban Gardens' site.
"It's a constant opportunity to cultivate, educate and bring kind of a tranquil area to the airport," Aviation Commissioner Rosemarie Andolino said to WLS-TV.
Some vertical gardens use soil, but the O'Hare garden is hydroponic, using water and a mineral solution to grow vegetables, rather than using soil.
"It uses and recycles water. The water has nutrients in it that feeds the vegetables, so it's using less land growing vertically instead of horizontally," Andolino said.

What a fantastic idea.  I can't seem to be able to grow much in the ground, but I'm very good at 'pot' growing.  This gives me a great idea for growing vegetables instead of flowers.  I can think of many vegetables that are pretty as well as useful.  It is the time of the year to get started.  Many thanks for the idea.
Are you sure you want to delete this comment?
FIND YOUR DREAM HOME OR APARTMENT
msn real estate is social
WHAT'S YOUR HOME WORTH?
HOME IMPROVEMENT PROFESSIONALS
more on msn real estate