5 housing predictions for 2014
Experts weigh in on what's in store for real estate as the calendar turns.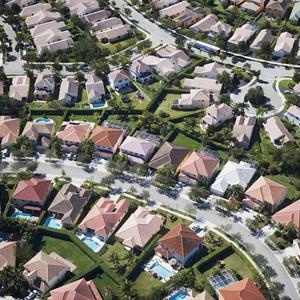 By Michele Lerner, realtor.com

The U.S. real estate market made a robust comeback in 2013, surpassing expectations of many economists, as the combination of low inventories and historically low interest rates caused home prices to rise and even helped fuel bidding wars in some markets, surpassing the expectations of many economists. While positive trends, such as increasing home values, are expected to continue into 2014, mortgage rates are also expected to rise in the coming year and could put a damper on homebuyers' abilities to afford new homes.
Looking back at some 2013 data can give us a hint of the year ahead.
Post continues below
1. Inventory should gradually stabilize and return to traditional seasonal levels
The beginning of 2013 could be characterized as the "year of low inventory" as buyer demand ramped up and homeowners waited for further price increases and evidence of a solid economic recovery before putting their homes on the market. The year began with a significant shortage of inventory (reported by realtor.com), and then as early as February, the level of shortages started to decline slowly. As 2013 comes to a close, inventory is approximately the same as a year ago. However, homes are selling faster than in 2012, with the median age of the inventory down by 11 percent.
2. More homeowners are likely to return to positive equity
Rising prices helped 2.5 million homeowners who were previously underwater regain positive equity status during the second quarter of 2013. However, approximately 7.1 million homes were still in negative equity at that time and an estimated 10 million homeowners, or about 21.1 percent of all homeowners with a mortgage, remained "under-equitied," with less than 20 percent in home equity.
The good news is that prices are expected to continue rising in 2014, which will lift more homeowners into positive territory. According to realtor.com, median list prices for homes in October rose 7.57 percent above the same month of 2012.
3. Mortgage rates are expected to rise
Mortgage rates increased approximately 100 basis points in 2013 and are likely to rise in 2014. The new chairman-designate of the Federal Reserve, Janet Yellen, is expected to continue the policies of Chairman Ben Bernanke, including keeping mortgage rates low by buying blocks of mortgage-backed securities. However, the Fed has considered tapering its bond-buying activity as the economy improves, which could lead to a slight increase in interest rates.
4. Foreclosure activity is expected to slow
Foreclosure sales are likely to play a minimal role in the housing market in 2014. September 2013 was the 36th consecutive month with a year-over-year decrease in foreclosure activity. Foreclosure inventory has dropped to multi-year lows, down nearly 33 percent since the end of 2012. Foreclosure starts were down 39 percent in the third quarter of 2013 to the lowest level since the second quarter of 2006.
5. Further declines in home affordability are expected
The National Association of Realtors' Home Affordability Index, which compares home prices with income, dropped to a five-year low in 2013 as price increases outpaced income growth. If the U.S. economy begins to grow at a faster pace and incomes begin to rise, though, the affordability index will slide further from rising mortgage rates.
While no one can predict with certainty what the housing market holds in store for 2014, a constant in real estate is always that local markets vary widely in their performance. National numbers can tell a story about the economy in general, but home prices, inventory and foreclosure activity depend on local market conditions. Contact a real estate agent in your community for the most up-to-date information about your market.
More from realtor.com's 2013 Real Estate Review:   

I hate to disagree to some degree with the rosy outlooks in the article, But I think that some problems will be rather stubborn in their resolution.  I think that there will be difficulty in the housing market because of Obama care.  After hearing the jumps in premiums of $200 - $300 per month and the deductibles that are perhaps $2000 - $3000 and more per year why would anyone consider buying a house  when an average family doesn't have the extra room in their spending for the constant monthly increase in health insurance.   Yet buying a house may still be he best answer.   I am moving soon, I hope, from my apartment  to a house costing $122,000 (foreclosure) with a few thousand needed to replace a non working HVAC unit and new shingles for the roof in a few years.   The closing costs will be about $5,000.  I have to move because my apartment rent is jacked up 8-9% per year.  Because I am older I have saved enough, but what about the younger couples/families??   Besides,  a lot of mortgage lenders want 5%- 20% down.  I see that almost nobody at the lower half of the economic scale, say about a family of 3 or 4 with an income of $50,000 will be able to buy.  Where will the money come from just to get into the house???   The program that was initiated by President Bill Clinton to get lenders to loan to sub- loaners was a bust causing the housing collapse.    That has caused such a tightening in requirements that the folks that could have qualified  6 - 10  years ago using the standard rules (not Clintons era) will not be able to afford it especially with the increases in taxes,  medical costs per Obama Care, and wild inflation in food etc thanks to Obama's spending.  The inflation index doesn't include gasoline and other cost volatiles, so that the Government can say inflation is low.  Just visit the grocery store.

Funny when interest rate have risen real estate value has dropped. We live in a time when incomes are stagnant, costs of life basics like food are rising quickly, cost of protection like health insurance is rising, energy is rising in cost, local taxes in Cape Coral, Florida and other communities seem to be rising, especially to cover huge local government pensions.
Vehicle loans are going out to six year loans,.
The city I live in is assessing on 16,000 plus undeveloped lots and developed homes a $20,000
assessment for water & sewer . The undeveloped lots have a value of  $4000 to $9000  and the homes in that area are maybe valued at $100,000.   Most are still upside down yet the city added  a 7% charge on electric kilowatt hours used, a 2 tier fir assessment costing $100 to $200 .
I guess I am unable to see the big picture of how the value of real estate is going in the toilet. Buyers can't seem to afford to sustain themselves yet they are going to spend more? The supply and demand equation has gone to hell in a hand basket.
Come and invest in Cape Coral, Fl.  home of a city that has one big business to its name...municipal government.




when we boomers get a little older, we will move to some form of organized and assisted shared housing, and our current single family homes will flood the market. wait a few years, market conditions will act to lower the cost of your homes. but wait, there's more; when we die the social security system will begin to stabilize. when it began there were 16 workers for each retiree, now there are only 3 of you. sorry. stay well and keep working!!
Are you sure you want to delete this comment?
FIND YOUR DREAM HOME OR APARTMENT
msn real estate is social
WHAT'S YOUR HOME WORTH?
HOME IMPROVEMENT PROFESSIONALS
from our partners