Are real estate agents an endangered species?
Despite the threat of websites and apps assuming their role, agents remain confident.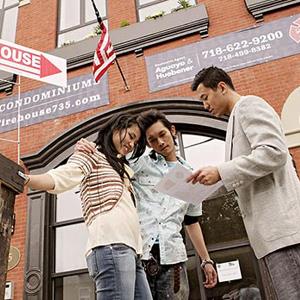 By Amy Xie, MainStreet
As real estate agents increasingly adapt digital tools in advertising, it is more and more common that homebuyers use a variety of online interfaces to search for their dream abodes. Yet when a Chinese investor recently bought a $13 million unit of the luxury Baccarat Hotels & Residences in Midtown Manhattan without visiting New York – merely communicating with his agent through social media platforms – an extreme question presented itself: Can real estate agents be replaced by online technology?
In fact, digital tools and the Internet have reshaped each section of our daily lives and penetrated deeply into the real estate industry – with no face-time required. The California Association of Realtors recently released a study showing that over 77 percent of homebuyers used social media in 2014 in their home shopping process, 1.5 times more than in 2011.
Post continues below
Fredrick Eklund, a Douglas Elliman's broker, also known as a star of Bravo's reality show "Million Dollar Listing New York," previously told real estate magazine The Real Deal that social media tools such as Facebook, Twitter and Instagram contributed to nearly a quarter of his home-selling business.
Homebuying behaviors are apparently being affected by mobile apps because of economic incentives to avoid a broker fee. For real estate agents who mostly depend on the 6 percent commission, direct home selling that's conducted only between homeowners and buyers would also further endanger their relevance and value in the real estate realm.
"Anything could be done without the middleman — that's a reality," says Sissy Lappin, author of the book Simple and Sold. "With technology and social media, real estate firms are fighting back with very desperate moves."
A study conducted by Northwestern University in 2010 found that homeowners who sold their houses on their own can gain 4 percent on the selling price than those who hired brokers to sell the same properties. In a report published last September called "The Future of Employment: How Susceptible are Jobs to Computerisation?" developed by University of Oxford to examine the expected impacts of future computerization on the U.S. labor market, "real estate broker" was listed as an occupation with a 97 percent probability of being replaced by means of computer-controlled equipment. "Real estate sales agent," the person in a brokerage who acts as a sales representative in a real estate transaction, has an 86 percent probability of being phased out by technology.
"We used to ask travel agents [to help us make travel plans], but now all we need is Expedia," Lappin says. Having recently cofounded a website called ListingDoor.com, which helps homeowners to list their housing information, she hopes to provide a bridge to connect sellers with buyers without the need for broker interaction.
Despite the fact that the transition of the industry brought on by technology could be revolutionary, real estate agents remain positive about the outlook of their profession in the face of a potential threat.
Sheryl Thornton, 52, director of residential real estate at Calabasas, Calif.-based Rodeo Realty, says that she thinks the role of real estate agents is significant and irreplaceable.
"Selling and buying homes involves so much paperwork," she says. "There is always a point that you really need experts to protect you from financial and legal risks."
As a real estate agent for 20 years, she has witnessed the constant change of the industry in selling houses.
"Real estate agents used to take 'floor time' which means taking turns sitting at their desks waiting for the phone to ring from buyers and sellers who were looking through the Saturday and Sunday L.A. Times," she says. "The difference now is that people don't read the paper, and the phone no longer rings much."
Elizabeth Perea, a real estate trainer at NYC Real Estate Advisors, sees the force that resulted from the innovation but disagrees that the role of real estate agents would be rendered obsolete by technology. Rather, she thinks knowing how to use social media and integrate technology into work is an essential skill for real estate agents.
"Real estate isn't about property; it's always about relationships," she says. "[That's why] social media is helpful, but it's only a means for real estate agents to communicate with their clients."
For a large number of agents who are middle-aged and non-tech savvy, Perea says that lacking confidence to use social media blocks real estate agents from being engaged with the Internet.
As a result, she suggested that real estate agents should increase their engagement online with potential buyers by sharing comments and posting images on social media. It's an adapt-or-die-out situation.
"Social media is networking," she says. "[Meanwhile,] being a leader who truly cares is the best way to build relationships — anywhere, even online."
More from MainStreet
FIND YOUR DREAM HOME OR APARTMENT
msn real estate is social
WHAT'S YOUR HOME WORTH?
HOME IMPROVEMENT PROFESSIONALS