Does the early bird catch the house?
An analysis of online home-search habits finds that West Coast residents are more likely to search in the early morning, while some East Coast residents are late-night searchers.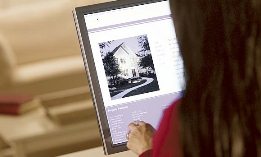 If you're trying to grab a good house for sale before someone else does, does it help to get up early?
That's hard to say. But an analysis of when would-be buyers are perusing listings at HomeFinder.com at least tells you when your fellow shoppers are online.
There are night owls and there are early birds, the company found.
Post continues below
If you're looking for a house in Miami, we can tell you that being an early bird doesn't pay. No matter when you see a listing, you won't find many real-estate agents who will talk to you much before 10 a.m. That's true of mortgage brokers and title companies, too, though every profession and every city has some early birds.
In Los Angeles, on the other hand, you may find all kinds of professionals at their desk every morning by 8 a.m. In the HomeFinder analysis, the five cities with the greatest number of searches performed between 4 a.m. and 10 a.m. (local time) were all on the West Coast.
The earliest risers were in Bellingham, Wash., where 28.2% of home searches were performed during those hours, with 85% of them done on a desktop computer.
Early-morning searchers were also found in Palm Springs, Calif., where 27.4% of searches were done in those hours (25% on a mobile device); Anchorage, Alaska, with 26.7% of searches; Sacramento, Calif., 25.7%; and Irvine, Calif., 25.6%. Only 5% of Irvine searchers were using a mobile device.
In contrast, some East Coast searchers tended to be night owls. The night owls were also more likely to use mobile devices – browsing while watching TV, perhaps.
In New York City, 18.1% of the searches were done between 10 p.m. and 4 a.m., with 35% of those on mobile devices. That was followed by Austin, Texas, with 17.2% of searches done during those hours; Philadelphia, with 17.1% of searches; Atlanta, 16.4%; and Memphis, Tenn., 16%.
In Memphis, 54% of the late-night searches were done on mobile devices. That was true of 51% of searches in Philadelphia, 44% in Atlanta and 17% in Austin.
Across the United States, 18.5% of searches occurred from 4 a.m. to 10 a.m., and 11.4% occurred between 10 p.m. and 4 a.m. Or at least those were the habits of the users of HomeFinder.com.
Trulia found that the peak time for real-estate searches on its site was Sunday and Monday, with more mobile traffic on Sunday and more desktop traffic on Monday – or at least that was how it looked in 2011.
FIND YOUR DREAM HOME OR APARTMENT
msn real estate is social
WHAT'S YOUR HOME WORTH?
HOME IMPROVEMENT PROFESSIONALS
more on msn real estate