Fleur de Lys mansion sells for $102 million
The 4.6-acre estate reportedly is the most expensive home ever to sell in Los Angeles County.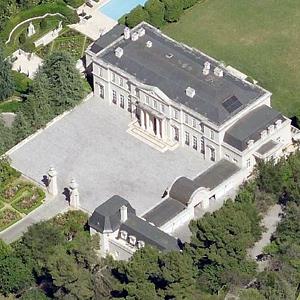 By Erin Carlyle, Forbes
The 50,000-square-foot estate known as Fleur de Lys has sold for $102 million, making it the most expensive home ever sold in Los Angeles County. Although the buyer's name is not on the deed, tax bills for the property will be mailed to a law firm at the same address as the Milken Institute, founded by billionaire and junk-bond king Michael Milken, according to the Los Angeles Times, which first reported the sale Monday afternoon.
Geoffrey Moore, a senior adviser at the Office of Michael Milken, tells Forbes that "neither Mike Milken nor the Milken Institute is the purchaser." The Times is now reporting that the tax deed goes to a law office at the same address as the Milken Institute.
Post continues below
The massive French-style estate in the Holmby Hills neighborhood, which together with Beverly Hills and Bel Air form Los Angeles' Platinum Triangle, was first listed at $125 million in 2007, after David I. and Suzanne Saperstein completed renovations of the behemoth place. After the renovations the couple divorced and Suzanne Saperstein put the home on the market. Since, it has been off and on the market, agent Kurt Rappaport, of Westside Estate Agency says.
"The sale did close," says Rappaport, who has had the listing for just three months.
Rappaport would not confirm the identity of the buyer or how many people bid, but he did acknowledge that multiple were interested in the property. According to the Times, Saperstein finally sold the home in a bidding war involving three bidders, with the winning buyer closing in 10 days in an all-cash deal that includes the home's antique furniture.
Rumors about the buyer and the price have been swirling for a couple months now. Initially, the buyer was believed to be a French billionaire. Although the sale is a record for Los Angeles County, it is still less than the $117.5 million paid by Softbank billionaire Masayoshi Son for a Woodside estate in November 2012.
The home was modeled after Vaux-le-Vicomte, a castle outside of Paris and is situated on 4.6 acres of grounds. It features 12 bedrooms and 15 bathrooms, a 3,000-square-foot wine cellar, a ballroom with space for 300 guests and, of course, tennis courts.
More from Forbes
FIND YOUR DREAM HOME OR APARTMENT
msn real estate is social
WHAT'S YOUR HOME WORTH?
HOME IMPROVEMENT PROFESSIONALS