Is a reality show good for your realty career?
Some agents are critical of real-estate reality shows, but many who have appeared say the shows have boosted their careers.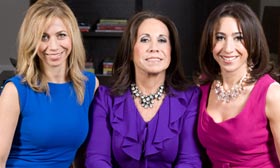 It used to be that the stars of real estate were the ones who sold the most property. These days, real estate has a whole new crop of stars: the agents who appear on reality TV.
But is being a reality star good for their realty careers?
Yes, say the Kleiers, a mother and two daughters who make up one of the teams of HGTV's "Selling New York." Michele Kleier and daughters Sabrina Kleier-Morgenstern and Samantha Kleier-Forbes say the show has increased the number of calls they get from buyers moving to New York.
Post continues below
No, says Pamela Liebman, CEO of Corcoran, who believes the shows don't accurately portray how real-estate transactions work. "My brokers are appalled by what happens on these shows," Liebman told The Wall Street Journal. "It's way exaggerated."
Exactly how "real" the real-estate reality shows are varies. Was anyone surprised to find out that many of the homes toured on HGTV's "House Hunters" are not really for sale and that the "buyers" had already bought a house before the filming started?
Is it really possible that home renovations so often follow exactly the same pattern – high hopes, unforeseen problems, scaling back of project – as we see on HGTV's "Love It or List It"? Come to think of it, all mine have, even without the TV cameras.
Producers say they try to make the shows as real as possible, while editing out boring steps such as emailing documents back and forth. For example, the producers of Bravo's "Million Dollar Listing" say they use public records to verify the details of all the transactions the show covers.
Producers also say they get lots of inquiries from agents who would like to be on TV. To do that, says Kathleen Finch, senior vice president and general manager for HGTV, agents need to have the "surf factor": "If you're sitting on your couch channel surfing, does this person make you stop?"
Ryan Serhant, a 29-year-old broker on Bravo's "Million Dollar Listing New York," says the show has been very good for his career. In the five years he has been a TV agent, he has gone from selling midrange condos to selling more than $200 million in real estate in the first part of 2013. He told The WSJ: "All exposure is good exposure, I think."

It's a good method to promoto your real estates.
And we can provide a more interactive method for you to sell your villas, houses,etc.
Please sear more for " Luxury China Show " - the top luxury show in China.
Luxury China show private jets,luxury
property,limousines,​sports
cars,yachts, jewelry,
timepieces,designs,a​rts
& crafts, high end service, etc. 
our FB:
our Youtube:

Would you be a part of half a million people blindly following ONE cult leader???  We ask "why" when we hear of a cult leading masses of people to destruction.  Yet, in Ameica, we allow 535 clowns to lead more than 300 million people to destruction.  Jobs gone.  Homes gone.  But, we still "vote" for our candidates who "lead" us to highet taxes, "ask your doctot" ads that destroy us and our families, our friends, neighbors and coworkers.  One clown (or maybe a cult leader) leads more than half a million Ameicans and we sit idly by and allow it.

Not sure TV is "selling" homes but I think it is causing a lot of homes to be foreclosed upon.  The "ask your doctor" ads addict people. Then, homes are lost because the owners lose thier memory due to drug interactions is my thinking. Then, they lose their jobs because of drug use and addiction.  They have no money left for the wash out centers.  So, yes, their homes are gone.  But, the legal drug lords continue to operate with the blessing of the Washington Taliban.  I believe "ask your doctor" ads should be made illegal.  Too many lives and homes lost to them.
Are you sure you want to delete this comment?
FIND YOUR DREAM HOME OR APARTMENT
msn real estate is social
WHAT'S YOUR HOME WORTH?
HOME IMPROVEMENT PROFESSIONALS