L is for Listed: Mystery writer selling home
Sue Grafton has listed her oceanfront California estate for $10 million. The 1937 house is on two acres, with both mountain and ocean views.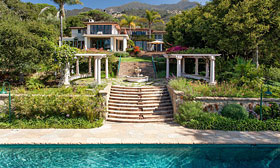 Mystery writer Sue Grafton has put her Montecito, Calif., estate up for sale, with an asking price of $10 million.
The 7,318-square-foot home is on two acres overlooking the Pacific Ocean, with the mountains as a backdrop behind the home. The property has a pool house with a gym and a one-bedroom guest house, as well as a pool, putting green and croquet lawn.
Grafton is best known for her series of "alphabet" mystery novels featuring Kinsey Millhone, an irascible private detective who has been known to break a few rules. The novels are set in the fictional town of Santa Teresa, which is modeled on Santa Barbara, three miles west of Montecito – which is called Montebello in the books.
Post continues below
The two-story Mediterranean home was built in 1937 and designed by Chester Carjola, a leading architect of the time. Grafton and her husband, Steve Humphrey, remodeled in the late 1990s, according to an article in Architectural Digest. The home has six bedrooms, nine baths and one half-bath. Listing photos show expansive spaces and lots of windows.
According to the AD article, the couple bought the home around 1995, seeking more privacy. The grounds include fruit trees, roses and extensive landscaping. The listing says:
Wandering the grounds beneath towering oaks, redwoods and palms, the estate's elegance and enchantment come to life. Sun filled terraces lined by beds of hydrangea, wildflowers and succulents overlook ocean and island views. Bougainvillea climb the home's romantic façade while stone walls line secret paths leading to flat lawns ideal for summer lawn games. Grapevines, avocado and citrus trees yield ripe, delicious fruit, and fragrant rose gardens permeate a sweet aroma across the delightful landscape. 
Back in 2000, Grafton told AD: "With other houses we've lived in, we were always looking at our watches. But this property suits us so beautifully, I suspect we're here for life."
It is not known why the couple is selling. The magic of fiction has slowed the aging process for Kinsey Millhone, who has not yet hit 40, but Grafton is 73, which makes downsizing a possibility. However, the author has not retired. The latest book in the series, "W is for Wasted," will be published next month. The author has pledged to write through to "Z is for Zero."
Grafton and Humphrey also have a home in Louisville, Ky., her hometown.
Kinsey, by the way, favors small spaces and lives in a 15-by-15-foot converted garage, which was remodeled for her by her landlord after she was the target of a bombing.
FIND YOUR DREAM HOME OR APARTMENT
msn real estate is social
WHAT'S YOUR HOME WORTH?
HOME IMPROVEMENT PROFESSIONALS
from our partners