Listing of the Week: Mansion once owned by Sean Combs
The rapper sold the Beverly Hills home for $2.35 million in 2001. The current owner is asking $10.9 million for an expanded and renovated version.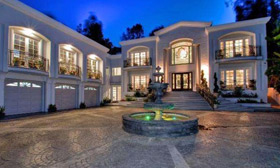 Nothing says success in Beverly Hills, Calif., like being able to say a famous person once owned your home.
So if you're looking for a status symbol, you might want to consider the former abode of rapper Sean "Diddy" Combs, which just hit the market for $10.9 million.
But you can't be sure which rooms Combs slept in, because the house has been upgraded and expanded since he sold it for $2.35 million in 2001.
Post continues below
According to public records, the current owners bought the house a year ago for $4.8 million. The listing says, "Newly completed and expanded, this home features all new custom finishes and innovative design."
The original home was built in 1998. The new and improved version is 10,000 square feet on about two-thirds of an acre in the gated Beverly Hills community of Summit. Features include surveillance cameras and TV monitors that are part of a Crestron home automation system.
The home has seven bedrooms and eight baths, plus a family room with a sports bar and a media room with a 10-foot high-definition TV, which is included with the purchase. (In fact, the home comes "turn-key" if that's what the buyer wants.) The master suite includes two bathrooms. There is an expansive pool and spa area that includes fountains and fire pits. Plus, says the listing, the property has "jetliner city views."
Combs has bought and sold a number of homes since he sold this Beverly Hills estate. Realtor.com gives us this synopsis of his recent real-estate history:
Diddy's real-estate dealings have been excellent tabloid fodder over the past few years. In early 2012, a crazed fan broke into the rap mogul's mansion in East Hampton and proceeded to dine on Diddy's food, drink his liquor and parade around in his clothing. Later that year, Diddy made headlines again when he listed a pair of penthouses in New York for $8.5 million and $20 million. He was back in the tabloids in early 2013 after rumors surfaced that Diddy was battling Jerry Bruckheimer for a $23 million mansion in Beverly Hills.
Bruckheimer ended up with that estate.

Americans have concerns about Obama's mental health too, In another MSN news report that cannot be commented on "What you need to know to apply for Obama care" the entire article is a lie.  No one has to follow any of the rules mentioned in fact the President is using his late night hosts and social news to lie about a bill that is already illegal.  Obama's news stars continue to tell people this bill is ok for them but others are exempted.  Not true.  He has changed unconstitutionally the bill so many times the action is racketeering.  SEE RICO Ignore these fear tactics and ignore filing of any forms.  Let Holder take you to court and ask why he is exempt.
Are you sure you want to delete this comment?
FIND YOUR DREAM HOME OR APARTMENT
msn real estate is social
WHAT'S YOUR HOME WORTH?
HOME IMPROVEMENT PROFESSIONALS
from our partners
more on msn real estate