Listing of the Week: Wayne Newton's former ranch
Plan to turn entertainer's former home into a theme park and museum fell apart, and the developer is asking $70 million for the 36 acres. Newton has moved to another home.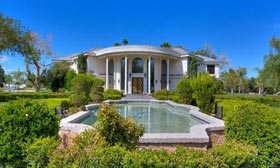 Las Vegas is nothing if not over the top. And if you'd like to join that lifestyle, we've got an over-the-top Listing of the Week for you.
Wayne Newton's ranch (or former ranch, to be legalistic) has just hit the market for $70 million. That's right, $70 million, or just about what Vegas performer Celine Dion is asking for her oceanfront Florida home with water park.
Newton's former crib, while lacking a water park, is even fancier. Its most unusual feature may be that it has a jumbo jet terminal, and we don't mean just what you'd find at the average airport: Your plane can actually pull up to your door.
Post continues below
The property, known as Casa de Shenandoah, is on 36 acres just east of McCarran International Airport.
In addition to the 11,192-square-foot main house, there are seven more houses, 37 stables, a car museum (we guess this is a really big garage) and a zoo, though the sloths, wallabies, penguins, lemurs and birds have all moved on.
Newton bought the property in the late 1960s. In 2010, he sold 80% of it to CSD LLC for $19.5 million, as a way to exit bankruptcy. The plan was for CSD to create a Wayne Newton theme park, museum, gift shop and dinner theater on the site, with Newton moving into a smaller home to be built elsewhere on the property. The project fell apart with suits and countersuits, so there will be no Wayne Newton Theme Park and Museum. According to the listing, CSD made $15 million to $20 million in unspecified improvements.
Newton has moved into a smaller property nearby but on land he owns. He and his wife, Kathleen, bought a 9,145-square-foot home on two acres for $3 million in May, than added an adjoining 10 acres.

I used to see him at the Arabian horse show in Scottsdale, Arizona.  He used to hang around the show barn just like any other owner.  I chatted with him a couple of times.  He was friendly, open and approachable and eager to talk about horses.  I'm sorry he got into such financial trouble.  I hope he does well with his new home.
Michael Brown
I remember seeing Wayne perform on the Ed Sullivan show. He called Ed, "Mr. Sullivan",  and as far as I know, he has been respectful of others most of his life. His big mistakes appear to have been caused by trusting the wrong people.
I'm sorry that the things he worked a lifetime to earn are gone, thanks mostly  to lawyers and the IRS.. I wish him well.
Are you sure you want to delete this comment?
FIND YOUR DREAM HOME OR APARTMENT
msn real estate is social
WHAT'S YOUR HOME WORTH?
HOME IMPROVEMENT PROFESSIONALS
from our partners