Man buys Wyoming town, plans to turn it into coffee hub
Vietnamese entrepreneur who acquired the tiny burg says it will be the headquarters for a new brand of caffeinated beverage.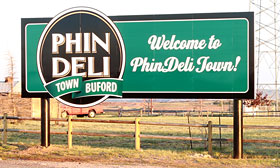 You might wonder what a Vietnamese entrepreneur would want with a tiny town in Wyoming.
Nguyen Dinh Pham paid $900,000 for the 10-square-mile town of Buford back in April 2012, making his first trip to the United States for the auction. Now he has announced his plans: Buford will become a coffee company headquarters. It will be named PhinDeli Town Buford, "phin" for the Vietnamese word for filter and "deli" for delicious.
Post continues below
"Introducing the PhinDeli brand of coffee from the small town of Buford seems to honor both unique cultures," Nguyen, 38, an importer from Ho Chi Minh City, said in a news release. "While the town may be small, it touches a large amount of people. We hope the same for our Vietnamese coffee brand."
Buford's former owner, Don Sammons, will remain on-site, running the Buford Trading Post, which had been the town's only business. He bought the town in 1980, after arriving in a red Cadillac from Los Angeles. Sammons, a veteran of the Vietnam war, had moved to Loveland, Colo., and had intended to retire.
Buford, 28 miles west of Cheyenne, was founded in 1866 as a military fort to guard the construction of the transcontinental railroad. The town was named for John Buford Jr., a Union officer during the Civil War. At one point, the town had about 2,000 residents.
Vietnam is the world's second-largest exporter of coffee, but no Vietnamese retail coffee brands are sold in the United States. Nguyen and his business partner Tuan Do plan to sell the PhilDeli Town Buford coffee in the United States, including through Amazon. They will also give free samples in Buford's convenience store.
Betty Schroll, 93, lives part-time in a cabin outside Buford and she remembers driving to town in her family's 1920 Dodge. "I used to go there for an ice-cream cone," she told Reuters. "Now I'll go for coffee."
FIND YOUR DREAM HOME OR APARTMENT
msn real estate is social
WHAT'S YOUR HOME WORTH?
HOME IMPROVEMENT PROFESSIONALS
more on msn real estate