Modular homes speed rebuilding on Jersey Shore
Several homeowners who lost their houses to superstorm Sandy elected to replace them with modular homes. These high-end structures bear no resemblance to FEMA trailers.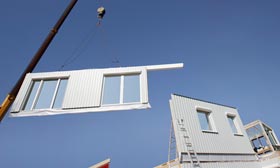 When Eileen and Eustace Raulli lost their home at the Jersey Shore to superstorm Sandy last year, they faced a long wait for rebuilding.
Building a house takes months at the best of times, and this was not the best. Because of the extensive damage, builders were busy, and they'd have to get in line.
So the Raullis turned to another solution: They replaced their house with a modular home, which was erected in less than a day, though the finishing steps took a few weeks.
Post continues below
"We always thought in terms of stick-built, but time is of the essence," Eileen Raulli told The Newark Star-Ledger. "Because of the weather conditions, it would have been a long and drawn-out process to have a house stick built."
Their new three-story home in Manasquan looks nothing like the stereotypical trailer home. The house has huge oval windows in several locations, hardwood floors, granite countertops and other custom touches. "It's not the cookie-cutter house," Eileen Raulli told the newspaper.
"This Old House," the PBS series, plans to air coverage of the erection of another modular home in Manasquan.
"We've told the modular-home story before," Kevin O'Connor, host of the show, told The Asbury Park Press. "But my thought is you're going to see a lot more folks down the Shore doing this because of the efficiency, speed and cost."
Modular homes were gaining appeal in New Jersey even before Sandy hit. Terrance Hegel, owner of Atlantic Modular Builders, said his company had been building million-dollar modular homes at the Jersey Shore before the storm. The daughter of former Gov. Christine Todd Whitman lives with her husband and four children in a modular home that looks like an old farmhouse, erected on family property in a historic district.
Tyler Schmetterer, a partner in New World Home, which built Whitman's daughter's house, says many modular homes are more storm-resistant than stick-built buildings. "Our stock home is built to withstand 120-miles-per-hour wind," he told the Star-Ledger. "Look what Sandy did at 70 miles per hour. The homes have to be able to withstand these storms."
FIND YOUR DREAM HOME OR APARTMENT
msn real estate is social
WHAT'S YOUR HOME WORTH?
HOME IMPROVEMENT PROFESSIONALS