'Safe at home' becoming a popular design addition
Amid shaky banking environment, more Americans may be stashing their valuables at home — sometimes, under their pillows.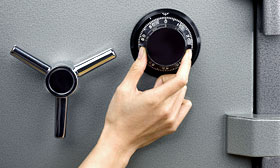 Keeping something important under your pillow hasn't always been a practical move — sleeping with a DeMarini bat, for instance, won't necessarily improve your softball swing, thanks to the chronic neck pain you'll acquire.
But what about keeping everything important under your pillow?
Smart Money shares the story of a homeowner who purchased Hollandia International's "safe-in-a-bed," a $400 add-on that nestles two safe-deposit boxes in a bed's base, under the mattress and just below where sleepers rest their heads. According to author Charles Passy, it's part of a trend toward keeping valuables at home, as opposed to in banks or offsite vaults. And manufacturers are noticing.
Post continues below
Home-safe makers and retailers are reporting a 40% increase in sales in recent years. What's considered a "safe" also has evolved: In addition to the small combination boxes you'll find in a hotel closet, manufacturers also now designing full-closet safes. And full-room vaults. And the kinds of freestanding structures that inspire television shows such as "Doomsday Preppers."
Part of the reason for the movement is the distrust in banks that has persisted since the housing crash last decade. Another is simply taste, especially among the luxury set. From the article:
"When somebody is building a $100,000 custom closet, they don't want a safe that looks like it belongs in the back of a delicatessen," says Robert Tompkin, president of Prestige Safe, a high-end New York manufacturer.
These companies aren't the only ones taking note of Americans' protection cravings. Telecom providers such as Comcast and Verizon have joined the mix by offering home-security services, MSN Money reports.
Where might home safes be catching on the most? Probably not in Maine, Vermont and New Hampshire, which comprise the top three cities in the Institute for Economics and Peace's recently released Peace Index. The bottom three states in the analysis of crime and protection were Louisiana, Tennessee and Nevada.
FIND YOUR DREAM HOME OR APARTMENT
msn real estate is social
WHAT'S YOUR HOME WORTH?
HOME IMPROVEMENT PROFESSIONALS
more on msn real estate