Save money when you move
Moving to a new house can cost $2,300 to $5,000 or more. But you can lessen the financial strain with these tips.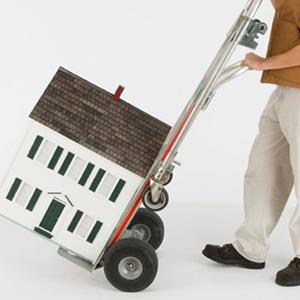 By Kelli B. Grant, CNBC
Memorial Day passing means more than the kickoff for beach vacations and summer road trips. Plenty of the people packing are planning a bigger, more expensive trip — moving all their belongings from one house to another.
These days, the average in-state move costs $2,300, while a state-to-state move is about $4,300, according to Angie's List. But there's a lot of variation — and ways to save — depending on the details.
Post continues below
"You can even spend $2,000 moving from one side of town to the other," said Cheryl Reed, a spokeswoman for Angie's List. And a survey from mover marketing company Our Town America found 10 percent of consumers spent more than $5,000 on their move.
Planning early may be one of the best savings strategies. A shortage of long-haul drivers, combined with the usual bump in summer demand, means many moving companies already have full calendars, said John Bisney, a spokesman for the American Moving & Storage Association. "You could conceivably face a bit of an issue getting in the dates that you want," he said. That in turn could mean higher costs, from fewer competitive bids or storage fees if you can't get a crew in time.
Reserving in advance can also present last-minute sticker shock, giving you time to save up, said Scott Hanson, founding principal of Hanson McClain Advisors, a wealth management firm based in Sacramento, California.
About 15 percent of consumers said they went into debt as a result of moving costs, according to Our Town America. Worse, some people dip into 401(k)s to foot the bill, Hanson said.
To find the best value on a move, get estimates from at least three movers. That way, "you know if one sticks out as being incredibly low or incredibly high," said Bisney. Be wary of especially low estimates — they could be a sign of a so-called rogue mover who will demand much higher rates once all your possessions are out of reach on the truck, he said.
Check movers' licensing and reputation with sources such as AMSA and the Department of Transportation, which monitor interstate movers. For local crews, check in with state regulators. It's also smart to look for reviews and complaints on site such as the Better Business Bureau, Yelp and Angie's List.
If possible, get move estimates in person rather than over the phone, so the mover can see how much stuff you have. That ensures a more accurate estimate and helps the mover strategize, said Reed. "Nobody wants the lawn mower on top of the hutch, or the dumbbells next to the TV," she said.
Still, it's worth asking what factors could bump the estimate, and by how much. One Angie's List user was told the crew would use about a dozen blankets to wrap fragile items. They ended up using 42 — adding an unexpected $350 to the bill, said Reed. Time spent packing, tough-to-navigate corners or stairs and more stuff than expected can also add to the cost.
Whether your mover charges by the hour or by volume, fewer items means a smaller bill. Take a hard look at your stuff while packing, and sell, donate or toss items that don't make the cut. That assessment is particularly important for long-haul moves, where you might spend more to move say, your old couch, than it's worth, said Hanson. "It makes sense to sell quite a bit of your furniture," he said. Make sure to update the movers if you're bringing less than expected.
How you pack could also help shave costs. Full-service movers have long used plastic bins in lieu of cardboard boxes, said Bisney. The sturdy crates can cut moving time because they roll and can be easily stacked without worry that fragile dishes are under heavier books. Now, more companies are renting the bins for DIY moves.
At New York City-based Bin-It, two-week rentals start at $109 for 20 bins. That's comparable to what you'd spend on cardboard boxes, packing tape and other materials, owner Rob Theryoung said.
If you're moving for a job, it's worth asking if the company will pay for some or all of the move costs, said Hanson. Unreimbursed moving costs may qualify for a tax deduction when you file next year, too. According to the IRS, moving costs may be deductible if your move is because ofstarting a new job, and your new workplace is at least 50 miles farther from your old home than your old job was from that home. You'll also need to work full-time for at least 39 weeks during the first year after the move.
More from CNBC 
FIND YOUR DREAM HOME OR APARTMENT
msn real estate is social
WHAT'S YOUR HOME WORTH?
HOME IMPROVEMENT PROFESSIONALS
more on msn real estate